The winter season is one of the most intense, yet most popular seasons of the year, with the cold and blustery winds, come picturesque snowfalls, white winter wonderland, and crisp morning breezes.
Winter is a time of reflection, peace, and sleep for both nature and people, but it's also unmistakably cold in many parts of the world.
A winter wardrobe needs to adjust to the drop in temperature and snowy winter winds, but with such frequently fluctuating temperatures, it can be hard to build a consistent and sustainable winter wardrobe.
A winter capsule wardrobe is one of the best ways to keep yourself warm, safe, and comfortable during the colder months, but how do you build the best winter capsule wardrobe, and what should be a part of it?
How to Build a Winter Capsule Wardrobe
Building your winter capsule wardrobe is a great way to put together a trendy yet sustainable wardrobe that helps keep your clothing on-trend without needing to shop every season.
Winter capsule wardrobes are also easy to wear many times over in many different combinations.
Capsule wardrobes are a great way to take modern, minimalist, and sustainable clothing trends and combine them with freshly trendy fashion ideas to help balance your desire to stay trendy and also not shop til you drop.
A winter capsule wardrobe is part of your rotating closet of staple pieces of clothing that you can wear as often as you like and in as many combinations as you like all winter long.
Building your winter capsule wardrobe means picking out the staples that you use the most to help create the foundation of your closet.
Your capsule winter wardrobe should be around 40 pieces, including pairs of shoes, but each of those staples or building blocks can be used in many different combinations to help create a fresh wardrobe without overstuffing your closet.
Your winter capsule collection should involve a series of season-constant staples that you've picked up over the years alongside a few new, high-quality items that you can pick up at the beginning of the season and continue to wear in the years to come.
When it comes to building your winter capsule wardrobe, keep these ten ideas in mind to help you stay focused on the right set.
10 Winter Capsule Wardrobe Ideas
1. Consider the Climate
Winter is different in every part of the world, so keep in mind the climate of the area where you'll be living as your major determinant of what type of clothing you'll be needing.
Are the temperatures pretty mild? You can avoid bulky knits or puffy sweaters. Are you facing Arctic-level temperatures? You may want to invest in a good, down-filled coat.
2. Accessories Matter Here
In winter capsule wardrobes, accessories are more important than in other seasons.
A good, neutral scarf or a warm pair of earmuffs are important pieces to have in your wardrobe, especially as you need to layer up in the face of wind or snow.
Keeping one or two warm but neutral accessories in your winter capsule is going to be key to warmth and overall happiness.
3. Simple Under-Layers
Picking out simple, basic tops or underlayers for your wardrobe will help you reuse them and make multiple wardrobe combinations with them.
In winter, often we tend to stay layered in coats or jackets, which means having a few different shirts to layer underneath will help you make each outfit feel different as well as being versatile.
Plain shirts in either short sleeve or long sleeve styles are a good bet because you can wear them with shirts, skirts, dresses, and pants, making them the perfect winter staple for easy layering.
4. Good Quality Jackets
A winter coat often seems to be the part of our wardrobe that wears out the fastest.
From constant use to frequent exposure to the elements, your winter coat takes a lot of damage despite being used so often.
Invest in a high-quality jacket and take care to clean it regularly to make sure it will last as long as possible while still keeping you warm.
5. Winter Boots Matter Too
Shoes can get expensive quickly, including staple pieces, so invest in a few winter-centered staples so you don't wreck a good pair of sneakers in the snow.
A carefully maintained pair of winter boots can last decades and pair with any outfit you create.
6. Don't Be Afraid of Color
A good capsule wardrobe often centers around neutral tones, but since winter is such a drab season already, you don't have to be afraid of a little color.
Consider picking out a bright hat or scarf to help you stay fresh and vibrant no matter what the other weather.
7. Layers Keep You Warm
Layering is going to be essential in keeping you warm, but it will also help regulate your temperature indoors and outdoors.
When you're going from freezing outsides to overheated indoors, it's important to be able to shed or add layers as often as possible.
Cardigans, sweaters, flannels: all of these can make great layering pieces that keep you warm and fashionable in the winter.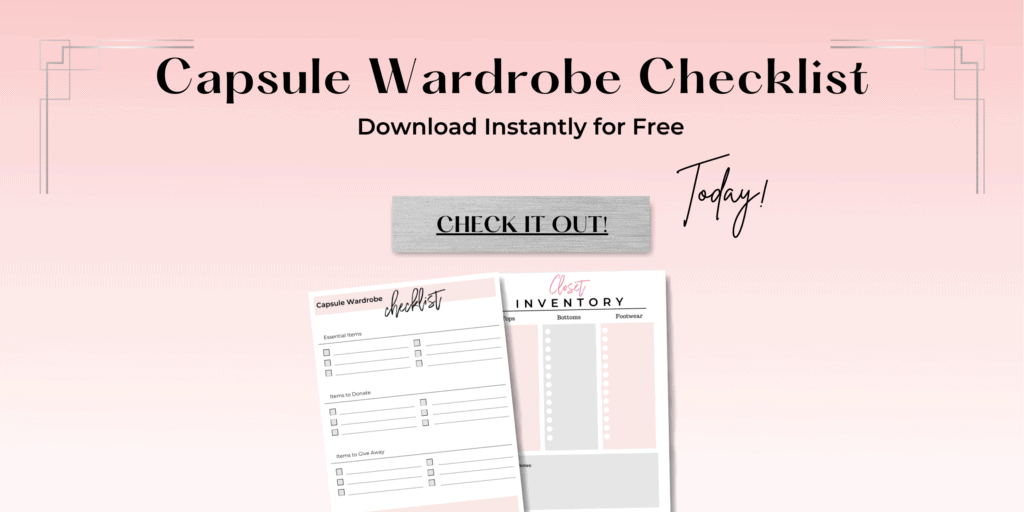 8. Jewelry Isn't Always Necessary
In winter, the areas where you'd be displaying jewelry such as your neck and wrists orhands are often covered with gloves or other accessories.
You can skip the jewelry hassle or mostly stick to earrings in order to minimize your wardrobe while still staying warm.
9. Keep Gloves Handy
Having a thickly insulated pair of winter gloves is going to protect you from all kinds of cold weather threats, including frostbite, freezing cold metal, or weather hazards.
Tuck them in your pockets or purse and keep them handy whenever you know you'll be in contact with the cold to help keep you both comfortable and functional.
10. Socks Can Make A Difference
In the winter months, having a pair of good, warm socks with moisture-wicking abilities is practically a necessity.
Your feet will naturally sweat due to the heat and contrast of the cold, or you could come into contact with snow or something else leaking through your shoes.
Being able to keep your feet warm and dry will help you stay healthy and happy in the cold, something we all want!
Final Thoughts
A winter capsule wardrobe is a great way to keep yourself warm and fashion-forward in a sustainable and flexible way.
Your wardrobe doesn't need to be packed with repeat pieces and overstuffed with clothing you'll rarely wear: with the right layering and staple pieces, your winter capsule wardrobe will last you many seasons and keep you warm and comfortable as well as stylish and trendy.
Having the perfect winter fashion is just one winter capsule wardrobe away.