If you are ready to jump-start your path towards minimal living, learning how to build a minimalist capsule wardrobe could be a PERFECT way to begin letting go of things that simply don't serve you anymore and take up too much of your time.
Nowadays, we live in the world of fast fashion, where it's easy to get caught up in the trap of high consumerism and the need for more and more wardrobe changes.
I use to spend my early mornings sorting through my closet trying to find an outfit to wear, which caused me to use up so much unnecessary energy-  and this was all BEFORE I had my first cup of coffee.
In an effort to declutter my closet, I did some research and learned all about the capsule wardrobe concept , then applied the steps towards creating one for myself.
I realized I could begin the process of letting go of things I didn't need, still be stylish and live minimally, all in less time.
Literally, life-changing. I could never go back.
What is a Minimalist Capsule Wardrobe
A minimal capsule wardrobe may look a bit different for everyone. When it comes to decluttering you closet, everyone has different wants and needs.
According to the capsule wardrobe trendsetter Susan Faux, " a capsule wardrobe is a collection of a few essential items of clothing that don't go out of fashion, such as skirts, trousers, and coats, which can then be augmented with seasonal pieces."
Un-Fancy blogger Caroline Joy defines capsuling as:
The key to building a minimal capsule wardrobe is the act of revamping and remixing your current wardrobe, instead of shopping for new clothes.
Letting go of things that simply don't serve your style and breaking those impulsive shopping habits that lead to debt, clutter, and guilt.
Wouldn't it be nice to simplify your daily life and declutter your closet with a less is more approach that saves you time and money? Not only does it declutter your home, but it declutters your mind as well.
I can't even begin to express the relief of not having to spend 15 minutes in front of the mirror each morning, deciding what to wear for the day or having to sort through old clothes every season, only to find that they take up a serious amount of space throughout the year that could be used for something MUCH MORE important.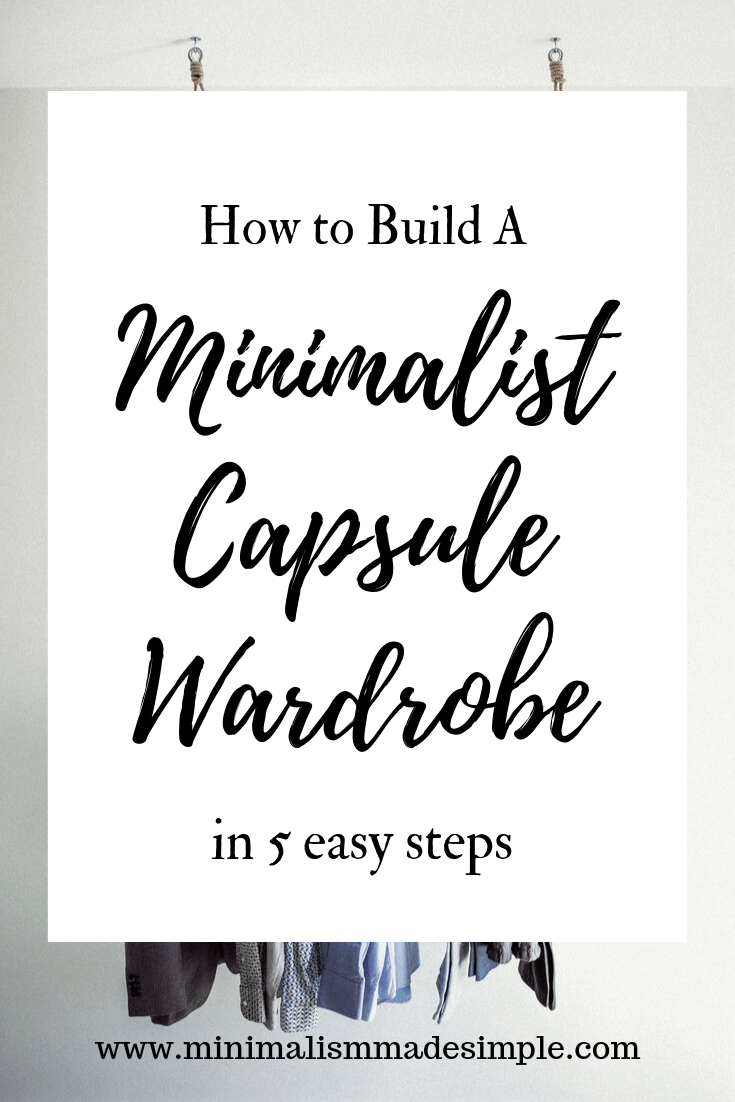 How to Build a Minimalist Capsule Wardrobe
Are you excited to start letting go of things and towards a life of minimal living? Trust me, this part doesn't have to be overwhelming and I can GUARANTEE these steps will help you through the process.
This part is all about  EFFORTLESSLY choosing clothing that is both functional and intentional. Let's take a look at these 5 easy steps that you can take towards building your minimal capsule wardrobe:
1. Determine how many pieces you want to have in your minimal capsule wardrobe
There is no set rule on how many pieces you are allowed to have when it comes to building a capsule wardrobe.
Usually, people opt for between 25 and 50 pieces, but it's entirely up to you to determine how much you want to keep. You can start with more items and work your way down.
The idea behind living minimally is that it's a journey defined by one person and one person only- YOU.
2. Sort through your closet
This is a good way to see what you are working with and how much work needs to be done. Layout all your clothes on your bed and begin to sort through your items.
Separate your clothes into piles and choose items that you love to wear, but are also practical and versatile. Can you run errands in the same white blouse that you can wear to dinner?
Think about how you would use each item for different occasions. This is one of the first steps towards letting go of things you simply don't wear anymore.
3. Choose a Color Palette 
If you are anything like me, I love adding a little color on top of the solid tans, whites, and grays.
Totally possible when you choose a color palette to mix and match your items.
Pick a color palette that best represents your character and that you feel most comfortable wearing. For example, if you like having a light and airy sense of style, choose colors that reflect that.
It's always important to feel comfortable in your own skin.
4. Identify the Essentials
Find items that are versatile and that you could wear for different seasons.
For example, a grey knee-length skirt can be worn in both the spring and fall. Your light tan boots can be worn in spring, fall, and winter.
Identifying essential items will simplify the process of decluttering your closet, and helps you to maximize space. This is where intentional choosing comes into play, choose wisely.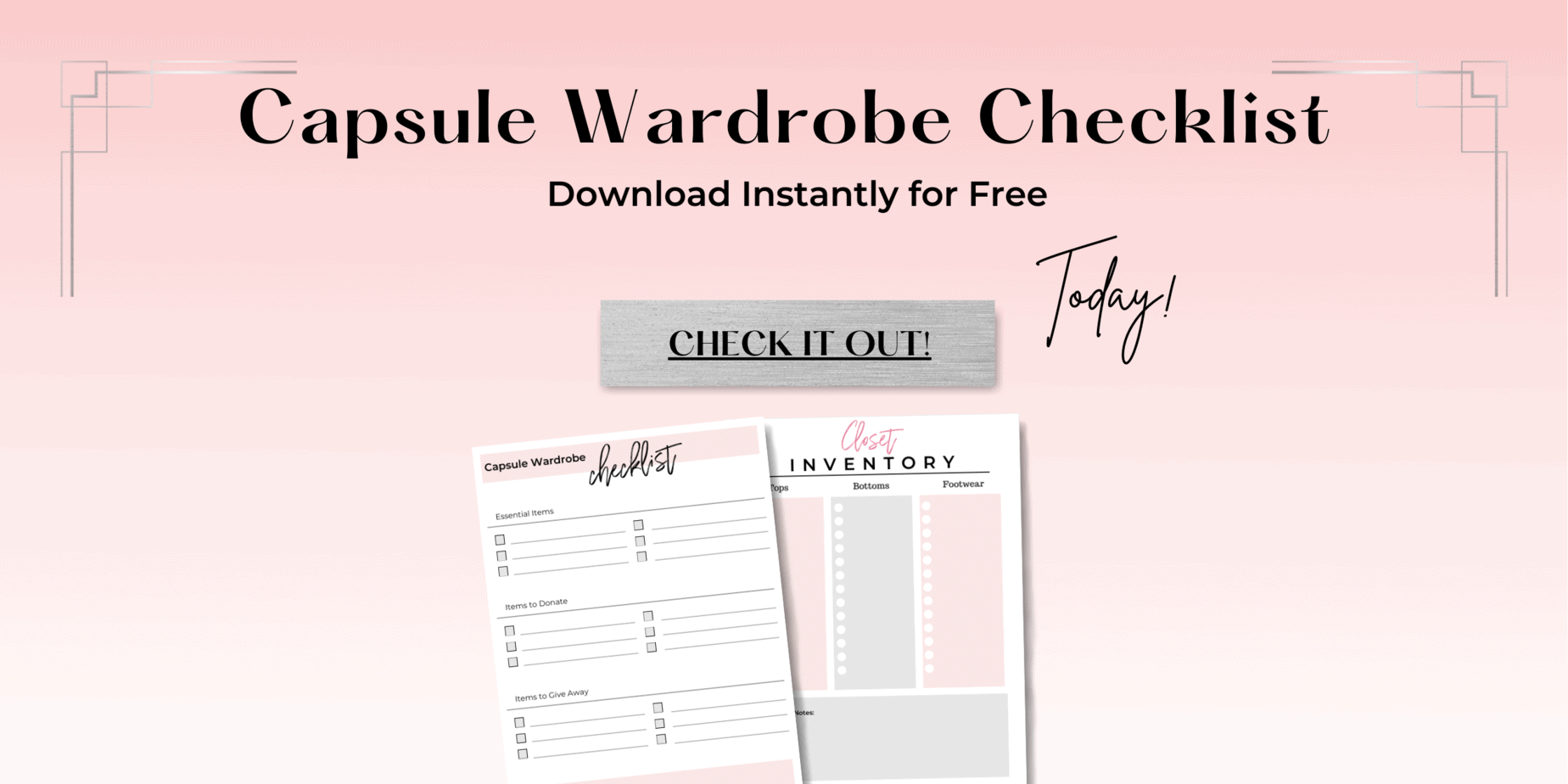 5. Find a Donation Center Near You
Now that you have everything sorted and have chosen intentional items for your minimal wardrobe, you may be wondering what to do with the rest.
I like to donate items that no longer serve me a purpose in hope that they may serve a purpose for others. You can do a quick google search of "where can I find a donation center near me?" which will provide you with a few different options.
You may even find some donation centers that pick up your items, saving you the trouble of commuting. Various donation centers are available depending on your location.
Some popular options are:
Goodwill
Donating to Goodwill will help someone find a job, preserve the planet, and strengthen the community.
To find a goodwill donation center near you, simply visit their donation website page and click on their locator button.
Dress for Success
The Dress for Success mission statement is to "empower women to achieve economic independence by providing a network of support, professional attire and the development tools to help women thrive in work and in life."
They operate worldwide, through local affiliates where you can see the drop-off times for donation centers.
If you are still holding onto your old prom dress or cocktail attire, this could be the perfect option to donate those precious items that others will receive value from.
To find a donation center near you, simply visit their website in the link above and click on their interactive map.
Soles4Souls
At Soles4Souls, they believe everyone around the world deserves a good pair of shoes. An international organization aims to disrupt the cycle of poverty and serve those in need.
To find a donation center near you, simply click the "give shoes" button on their website and use the drop-off location navigator.
They provide other options on their website, such as a cash donation to buy shoes or a Zappos For Good partnership that will ship your shoes for free if you live in the United States.
You can also do a quick search of local non-profits that take donations, they may have some donation centers available for drop-off or pick-up.
When I lived in New York, there were plenty of local donation centers available for the choosing. Be sure to consult family and friends to see where they have donated before.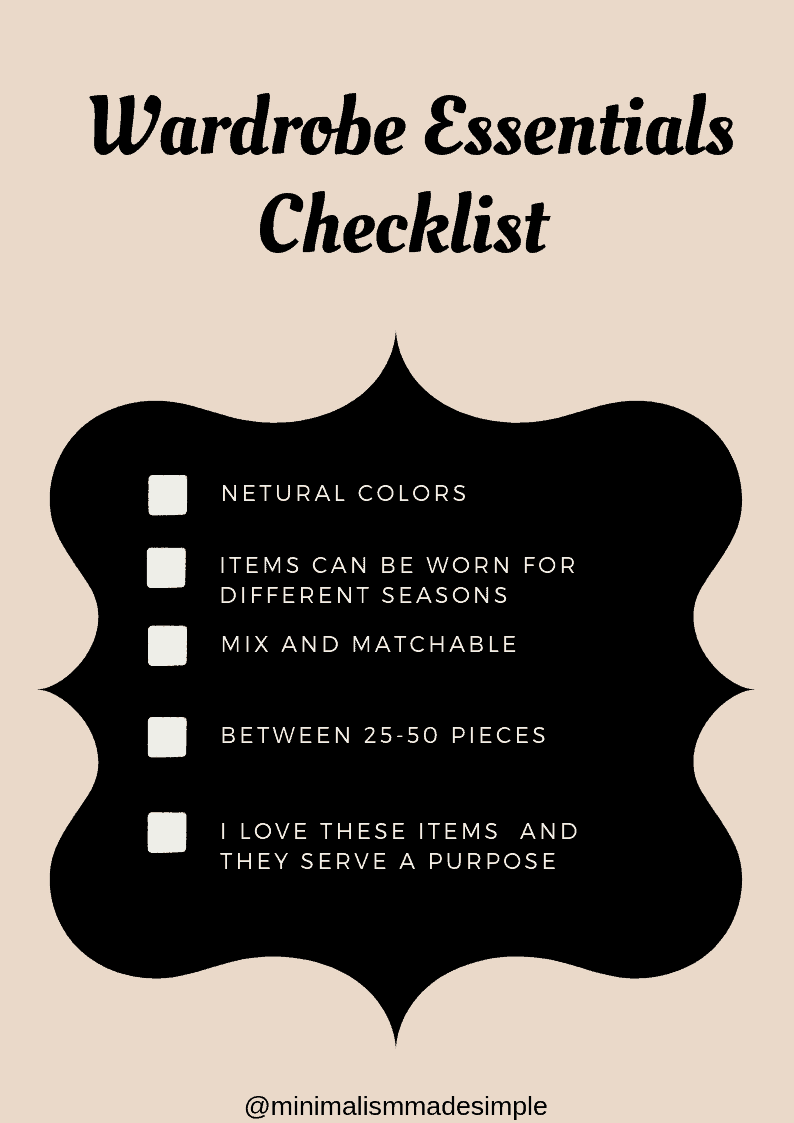 Your Minimal Capsule Wardrobe Journey
Letting go of things is a process, and building a minimal capsule wardrobe is no different.
There is no right or wrong way to go about it, and each person creates their own capsule wardrobe a little bit differently from the other. Remember that living minimally is more of a personal journey, defined on your own terms.
Use this 5 step guide as a stepping stone towards creating the minimalist lifestyle you want, the chance to declutter your closet, and the path to adopting a less is more approach.
Are you ready to get started with your minimal capsule wardrobe? Need some extra guidance?
Feel free to connect in the comment section below!