In the age of social media, it's all too easy to find ourselves being influenced by our peers, as well as celebrities and models.
The result of all of this is the fast creation of new trends, which appear in our favorite stores at lightning-quick speed.
And the clothes are so cheap to buy, we often find ourselves picking up an item we love in every single color.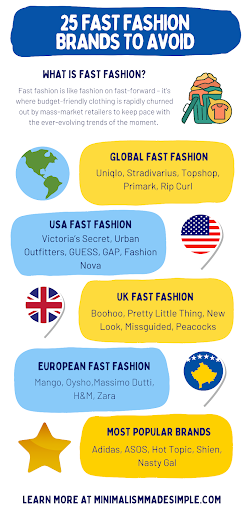 What are Fast Fashion Brands?
Fast fashion describes low-cost designs that are quickly transferred from the catwalk to clothing stores.
Years ago, there were four fashion 'trend seasons' per year, to coincide with the actual seasons.
But nowadays, different trends are introduced much more often – sometimes two or three times per month.
So, how can you spot fast fashion brands? Here are four of the main fast fashion signs:
Are they quick to release clothes after a trend is seen on the catwalk or modeled by a celebrity or social media influencer?
Are their clothes produced in big factories where workers are paid unfair wages?
Do you feel pressured to buy their clothing due to limited availability?
Are the clothes made from cheap, poor quality materials?
Want to find out if your favorite clothing brand or store sells fast fashion?
Read on to find out more about the key culprits, here are 25 fast fashion brands to avoid and why:
Biggest Fast Fashion Brands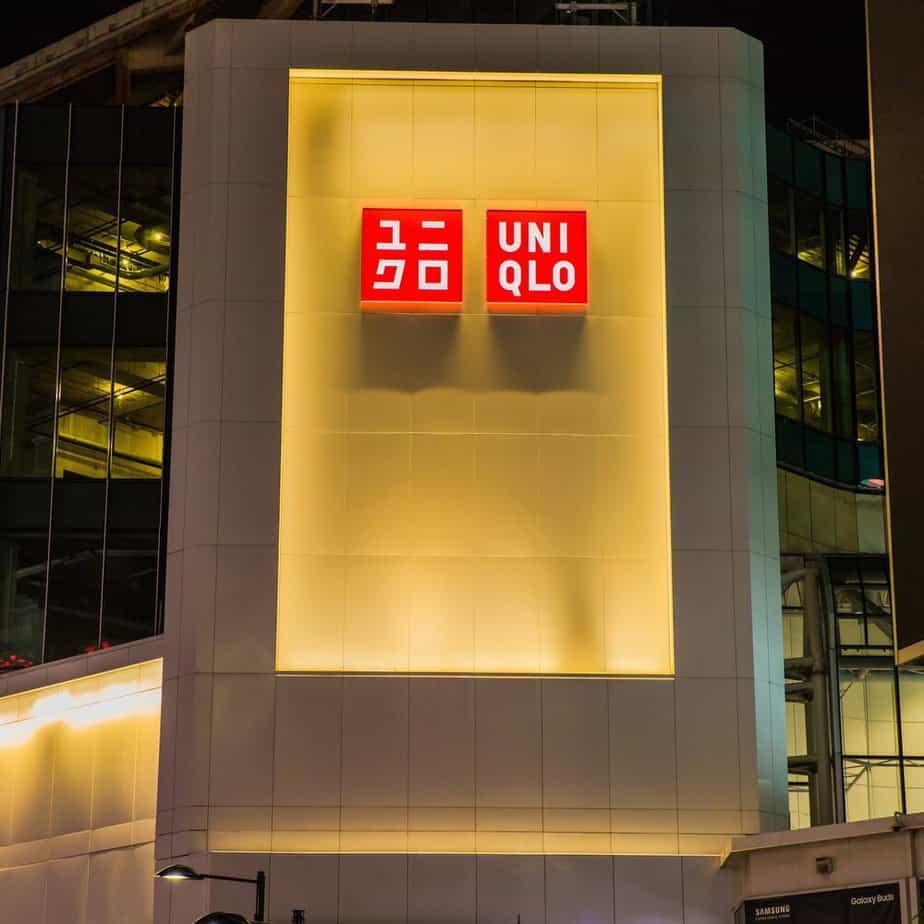 This is a Japanese brand that offers casual clothing. They operate in Japan and other international markets
Why shouldn't you shop there? Uniqlo has been hit by a number of controversies in recent years.
In 2015, several labor rights violations were reported from one of their suppliers in China.
In 2016, it was alleged that Uniqlo still expected staff to work "excessive overtime" for low rates of pay, in dangerous conditions that had a culture of bullying and harassment.
Stradivarius
This Spanish brand sells women's clothing. It was developed back in 1994, but in 1999 they were taken over by the Inditex group.
They have over 900 stores worldwide and have been described as Zara's trendy little sister'.
Keep reading and you'll see the name Inditex' mentioned many times.
They are a company that has been plagued by accusations of poor working conditions and unfair wages.
Topshop
Originally known as Top Shop, this multinational fashion brand sells clothes, footwear, cosmetics and accessories.
There are 500 Topshop outlets in the world, including 300 in the UK.
It's part of Arcadia Group Ltd. which also owns other high street clothing retailers including Dorothy Perkins, Evans, Wallis, Burton and out-of-town retailer Outfit.
Why should you avoid them?
On more than one occasion, they've shown they are willing to prioritize profit over their people, with workers often being treated unfairly.
Primark
Known as Penney's in the Republic of Ireland, Primark is an Irish fashion retailer with headquarters in Dublin.
They sell clothes for all age groups, including baby and toddler wear.
Unlike some of the other fast fashion stores, they also sell homeware and confectionery.
There are over 350 stores in 12 countries around the world.
Reasons not to buy from them?
Back in June 2014, labels stitched with SOS messages were found in items bought from a store in Swansea.
Primark denied any wrongdoing and branded these messages a hoax, but how can we be sure?
Especially when in June 2014, a customer from Ireland found another SOS note from a Chinese prison which alleged prisoners were made to work 'like oxen' for 15 hours a day.
Rip Curl
This retailer designs and makes surfing sportswear (aka board wear).
They're also a major sponsor in the world of athletics.
They have shops worldwide, including 61 in Australia & New Zealand, 29 in North America and 55 in Europe.
Why should you avoid them? Their workshop is in North Korea and they've been accused of modern slavery.
USA Fast Fashion Brands
Victoria's Secret
An American designer, creator, and marketer of lingerie, women's clothing, and beauty items.
This is the biggest retailer of lingerie in the USA.
Reasons not to buy from them?
Too many to list.
They include formaldehyde lawsuits, child labor, allegations of transphobia, sexual harassment of their models…
Urban Outfitters
Targeted at young adults, UO offers clothing, footwear, beauty products, active wear & equipment, home ware and music including vinyl and cassettes.
Why should you avoid them?
Their staff aren't paid a living wage (they have even been caught asking staff to work for free on weekends – in the US!
So imagine what they might be doing in countries without much in the way of employment laws?)
They still use A LOT of synthetic fabrics, too.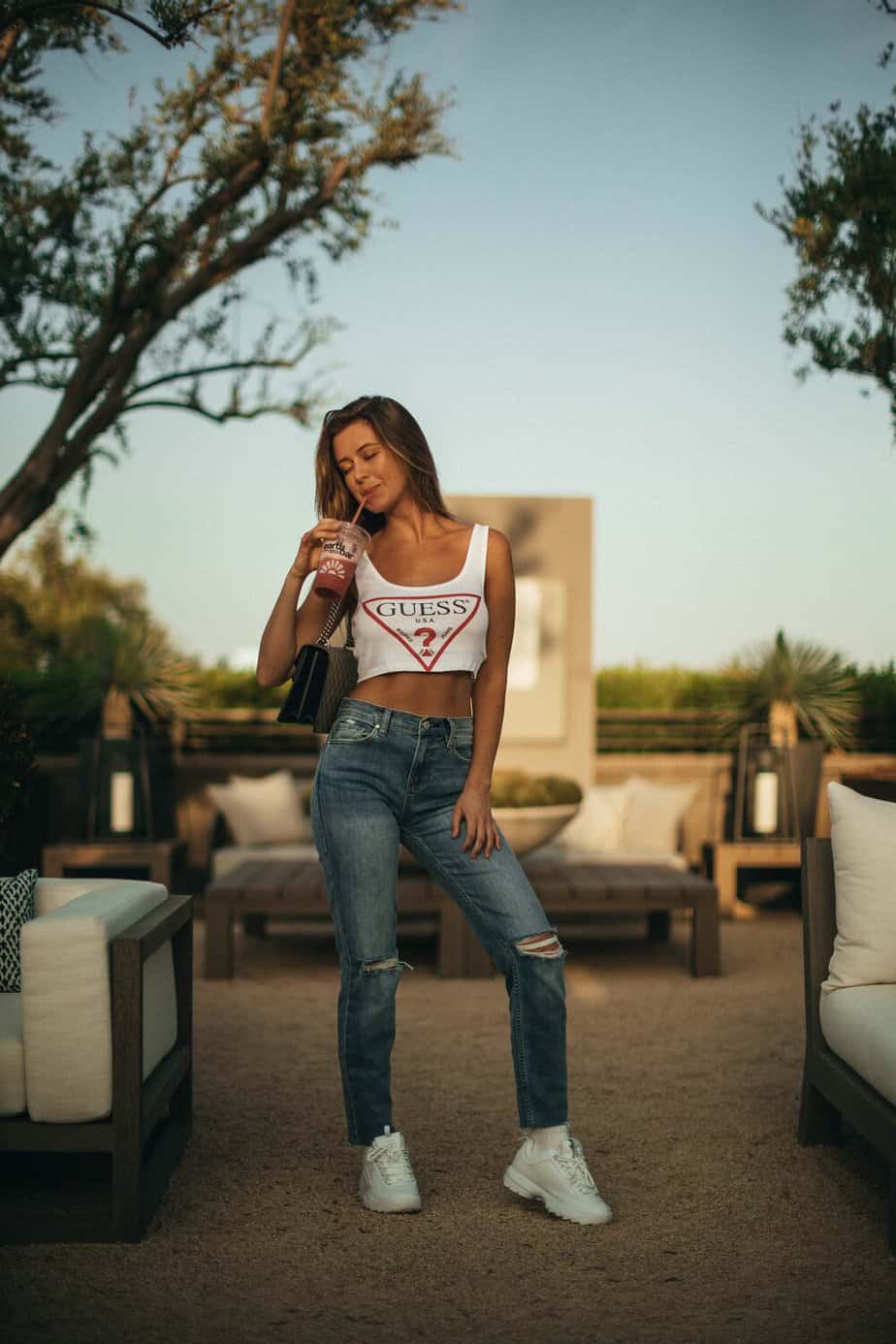 As well as fashion for men and women GUESS also sells accessories including jewelry, watches, and fragrances.
Reasons not to buy from them?
Back in the 1980s, GUESS's image was damaged after they made headlines due to allegations of sweatshop labor.
And in the early nineties, GUESS was revealed to have failed to pay their staff the minimum wage.
Instead of facing court proceedings, they chose to pay over $500k out as backpay to the staff affected.
In 2009, Gucci accused them of trademark infringement and tried to sue GUESS for $221 million.
In the end, they received $4.7 million.
GAP
This is an American worldwide retailer for clothing and accessories.
Their headquarters are in San Francisco.
They have over 3500 stores worldwide, with around 2400 in the US alone.
Why shouldn't you shop here?
They've had more than their fair share of labor controversies.
In the past they've hit the headlines for not paying their staff for overtime, subjecting employees to forced abortion and unsafe working conditions.
During May 2006, employees of one of GAP's suppliers revealed they had been working over 100 hours per week and they hadn't been paid for six months.
Some staff even accused the management of sexual misconduct.
By May 2018, GAP had ended their business relationship with this supplier (Western Factory).
Fashion Nova
This company is based in the heart of downtown Los Angeles.
They have five retail locations in Southern California.
In 2018, they were the number 1 most-searched for fashion brand on Google.
Much of their success comes down to their strong social media presence on platforms like Facebook and Instagram.
Reasons not to buy from them?
While the clothes might be cheap, you get what you pay for – the quality is very poor.
UK Fast Fashion Brands
Boohoo
This is an online-only retailer, aimed at customers aged between 16 and 30.
They offer a range of products including own-brand garments.
There are over 36,000 products on offer at any one time.
Why should you avoid them?
In 2018, they were named and shamed in Parliament for selling £5 dresses of such poor quality, charity shops wouldn't be willing to resell them.
They were also criticized for encouraging the UK's throwaway clothes culture.
Pretty Little Thing
Owned by Boohoo Group, this UK-based fashion brand is aimed at 14-24-year-old women.
Their main headquarters are in Manchester, UK, but they have offices in London and Los Angeles too.
Reasons not to buy from them?
Earlier in 2019, they were accused of removing labels from cheaper branded clothing and re-selling as their own – for double the price.
For example, one customer claimed she had bought a pair of jogging bottoms for £20.
When they arrived, they had a PLT label stitched into the seam, but she found the remains of a Fruit of the Loom (very cheap, basic clothing brand) label on the other side.
They also seem to 'recycle' ranges when it comes to celebrity-endorsed lines.
Ex-Love Islander Molly-Mae Hague launched 'her' range – but customers insisted it had already been available on the website for some time.
New Look
This is one of the original UK fast fashion brands. They first opened in 1969 as a single fashion store.
Nowadays, they're a global chain with 895 stores around the world.
Why should you avoid shopping there?
In 2018, New Look had some financial difficulties, so they said they would be cutting their prices.
But to do so, they must have been cutting corners somewhere.
Plus, they still use animal products like leather, down, and exotic animal fur.
Missguided
This is a UK-based, multi-channel brand that sells clothes to appeal to women aged 16-35.
They have ranges to suit all shapes and sizes, including tall, petite, and plus size.
Recently, they've launched a menswear brand, 'Mennace'.
Reasons to avoid buying from them?
In 2017, it was found that the brand had illegally used fur from cats, raccoon dogs, and rabbits in the production of shoes.
And in 2019, they hit the headlines for selling a £1 bikini while 'celebrating ten years of empowering women'.
We're pretty sure women working in their factories don't feel very empowered working for less than £1 per day.
Peacocks
This brand is now part of the Edinburgh Woollen Mill Group.
They have over 400 Peacocks shops in the UK and more than 200 stores located in Europe.
When they first opened, they sold home goods and essential clothing.
These days, they've re-branded as a 'value fashion store'.
Why shouldn't you shop there?
More of the same. Poor quality clothing, low paid staff.
Oh, and in 2018 they sold an 'inflatable perfect women' described as 'sexy' and 'nag free'.
Pretty misogynistic if you ask us.
European Fast Fashion Brands
Mango
This brand offers women's, men's, and children's clothing collections.
Their biggest market is in Spain, but Istanbul in Turkey has the highest number of Mango stores.
Why should you avoid them?
In 2013, an eight-story commercial building in Bangladesh collapsed.
It housed several garment factories, shops, and a bank, employing about 5000 people.
The collapse led to the death of over 1000 people and leftover 2400 injured.
Out of the 29 brands which were identified as using products from the factories, only 9 attended meetings to agree to compensation for the victims.
Mango wasn't one of them.
Oysho
This Spanish clothing retailer specializes in homeware and women's underwear.
Their headquarters are in Catalonia and they have 650 stores around the world – 190 of which are in Spain.
Should you avoid them?
Yes. More low quality, cheap garments made by staff working in questionable environments.
Massimo Dutti
Although it sounds Italian, this is a Spanish company.
Originally, they sold men's clothing, but they now sell women's and children's clothes, plus a range of perfumes.
They have 781 stores across 75 different countries.
Why shouldn't you shop here?
They're owned by Inditex Group (need we say more) and they sell cheap, low-quality clothing that only serves to fuel the throwaway society.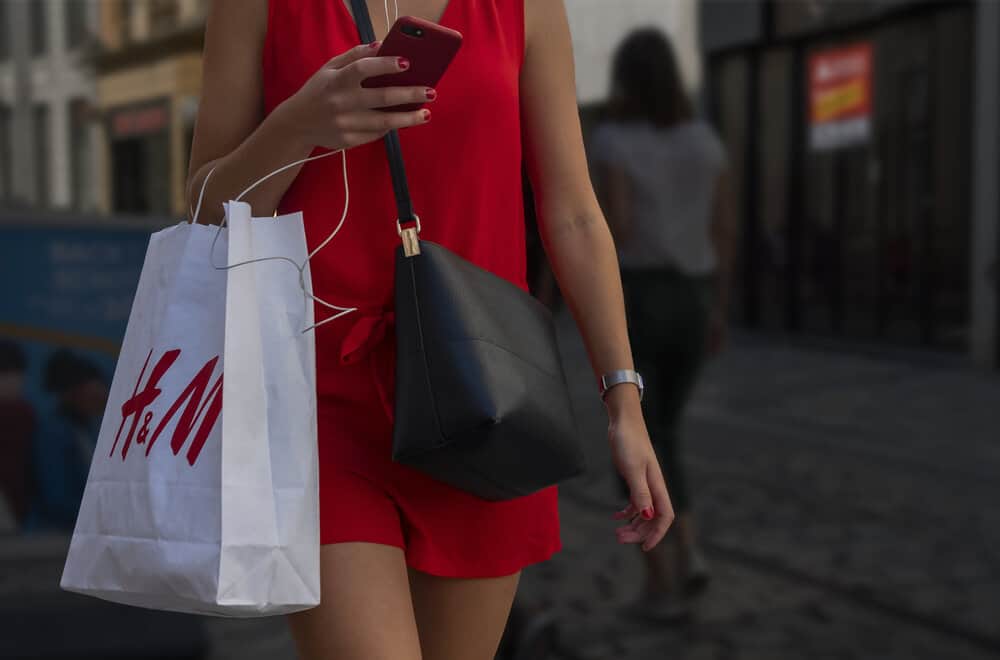 Did you know this stands for Hennes & Mauritz? No? Well, now you do!
This is a Swedish multinational retail company which sells fashion products for adults and children.
With over 3,500 stores in 57 countries, this is the second biggest global clothing retailer.
Reasons not to buy from them?
Their staff receives low wages – and the company has also been accused of 'copying models from high-end brands'.
Zara

This Spanish clothing retailer offers fast-fashion products for adults and children, including clothing, shoes, accessories, swimwear, perfume, and beauty products.
In 2017, they offered 20 clothing collections, with around 12,000 designs being sold each year.
Rumor has it that Zara only needs a week to design and produce a new product and get it into stores.
The industry average? Six months.
That's what we mean by fast fashion.
Zara has over 2000 stores in almost 100 different countries.
Why should you avoid them?
They've been accused of subjecting workers in Brazil to slave-like working conditions.
Most Popular Fast Fashion Brands
Also known as "the three stripes company", Adidas was founded in Germany.
They design and make footwear, clothes, and accessories.
They're the biggest manufacturer of sportswear in Europe and come second only to Nike when it comes to international manufacturers.
Reasons to avoid buying from them?
Well, when it comes to labor conditions and sustainability, they don't fare too badly.
But they are still producing a large number of fashion garments – and most of them are not made using sustainable materials.
Plus, they still use animal products like wool, down, and leather in the creation of their products.
ASOS
This brand name is an acronym of "as seen on screen".
They are a British online-only retailer selling fashion products and cosmetics.
They sell more than 850 brands plus their own brand items.
They ship products to 196 countries and have a popular mobile shopping app.
They found themselves under scrutiny in 2019 after posting an image on social media depicting one of their models wearing a dress held together with bulldog' clips.
Many of their followers said doing things like this would have a huge impact on youngsters battling body image issues and questioned why they didn't just:
a) find a model to fit the dress
b) find a dress to fit the model.
HOT TOPIC
This retail chain sells clothes and accessories influenced by popular culture.
Primarily, their products are aimed at people who are interested in gaming and rock music.
They've sponsored a number of music events such as Ozzfest, Sounds of the Underground, and the Taste of Chaos tour.
Why should you avoid them? They offer more of the same – poor quality garments which don't last.
Shein
This online retailer offers clothing, beauty products, and accessories for men, women, and kids.
They also offer a plus-size range.
Reasons not to buy from them?
Like many other companies, they take images from high-end fashion retailers. Then they try to reproduce these items as cheaply as possible.
But what you end up receiving rarely looks anything like the picture you saw on the website.
Needless to say, they've found themselves in a lot of trouble for copyright infringement and reproducing photos of influencers and celebrities without permission.
Oh, and they don't give much away about their impact on animals and our world.
Nasty Gal
This online retailer sells women's clothing, shoes, and accessories.
Once again, they don't tell consumers much about the impact their operations have on the planet, animals, and humans.
How to Avoid Fast Fashion
There is nothing wrong with wanting to buy a new outfit and the prices can seem enticing.
But while fast fashion might seem cheap, there is a fast fashion environmental impact, so it comes at a cost.
Looking for ways to avoid fast fashion? Try our tips:
Disclaimer: Below may contain affiliate links, where I may earn a small commission. I only recommend products that I use and love at no cost to you.
Buy from sustainable clothing brands:
There are plenty out there, including: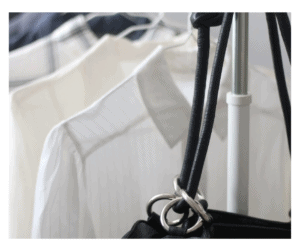 They specialize in organic fabrics that last long.
I love their simple and ethical pieces
Sustainable apparel for conscious, creative minds.
A great alternative to buying new clothes all the time.
A sustainable and affordable womans brand
Don't buy so much 'stuff'.
Even the most ethical fashion retailers make some kind of environmental footprint.
If buying clothes makes you happy, try to find something else to bring you joy instead.
Look for better quality clothing
When you do decide to buy, run a few quick tests to check the quality.
Look at the stitching, hold it up to a bright light to check it's not see-through, make sure zippers are marked with "YKK" and check if there are any spare buttons or thread attached.
It won't take you long and is a great way to make sure you're spending your hard-earned cash wisely.
Shop in thrift stores or charity shops
Or check out the listings on eBay. You might even find a bargain!
Share and swap clothes with friends
Got a friend or family member who wears the same size as you?
Consider buying garments you can share.
You'll cut your own costs as well as reducing your environmental impact.
Rent clothes for special occasions
If you need a cocktail dress or ball gown, why not think about hiring one?
Chances are, you'll only be wearing it once anyway.
How to Spot Fast Fashion
To identify fast fashion brands, pay attention to the materials they use and how they source them.
Fast fashion often relies on cheap and polluting fabrics like conventional cotton and synthetic materials such as polyester, nylon, and acrylic.
These materials have a significant environmental impact and contribute to pollution. Look for brands that prioritize sustainable fabrics like organic cotton, linen, hemp, and lyocell or use recycled materials.
When you are looking for new clothes, be sure to look the brand's transparency and commitment to social and environmental responsibility.
Fast fashion brands often lack transparency about their supply chains and may not provide information about ethical working conditions.
Seek out brands that openly share details about their factories, production processes, and efforts to minimize their environmental footprint.
Brands with certifications, like Fair Trade or GOTS (Global Organic Textile Standard), are more likely to be committed to ethical and sustainable practices.
The Negative Impact of Fast Fashion
Fast fashion has a profound and concerning environmental impact, and is contributing to climate change.
It ranks as the second-largest water-consuming industry globally, using around 700 gallons to produce a single cotton shirt and a staggering 2,000 gallons for a pair of jeans.
Synthetic fibers such as polyester, nylon, and acrylic, which are commonly used in fast fashion, take centuries to biodegrade.
A significant portion of ocean microplastics—around 35%—originates from the washing of synthetic textiles like polyester, found in millions of clothing items worldwide.
The world today consumes 400% more clothing than two decades ago, resulting in the average American generating 82 pounds of textile waste in a given year.
Fundamentally, Fast fashion stands in stark contrast to minimalism. It not only exerts a significant environmental toll but also contributes to societal issues, particularly in developing nations.
Approximately 80% of clothing is produced by young women aged 18 to 24.
Alarming reports from the US Department of Labor in 2018 revealed instances of forced and child labor in the fashion industry across several countries, where rapid production prioritizes sales and profits over human well-being.
_______________________________________________________________
References & Further Reading
____________________________________________________
FAQs
How can I avoid fast fashion?
Avoiding fast fashion involves making conscious choices. Opt for sustainable and ethical clothing brands that prioritize quality over quantity. Look for durable pieces and timeless styles that won't quickly go out of fashion, allowing you to wear them for longer periods. Thrifting or shopping at second-hand stores can be budget-friendly alternatives. Make sure to educate yourself about the brands you support, researching their production practices, transparency, and commitment to ethical and environmental standards.
How can I avoid fast fashion on a budget?
Look for sales and discounts from ethical brands, as they occasionally offer budget-friendly deals. Thrift stores and online second-hand marketplaces can be excellent sources for affordable, sustainable fashion. Consider renting clothing for special occasions instead of purchasing new items. Also, practice mindful shopping by planning your wardrobe needs in advance to make cost-effective and sustainable choices.
How can I avoid buying fast fashion clothing?
To steer clear of buying fast fashion clothing, start by identifying your clothing needs and creating a capsule wardrobe with versatile, timeless pieces. Research and support sustainable and ethical brands that align with your values. Avoid impulsive shopping and carefully consider each purchase, focusing on quality over quantity. Thrifting and clothing swaps with friends can also help you find alternatives to fast fashion.
How can I avoid fast fashion on Reddit?
To avoid fast fashion discussions on Reddit, you can customize your Reddit feed by subscribing to subreddits related to sustainable fashion, ethical clothing, or minimalism. Unsubscribe from or ignore subreddits that primarily discuss fast fashion brands and trends. r/SustainableFashion and r/ethicalfashion are two of the website's largest sustainable fashion communities where you can find like minded individuals who care about sustainable fashion.
How can I avoid fast fashion in the UK?
Avoiding fast fashion in the UK involves similar strategies to those mentioned earlier. Research and support British sustainable and ethical clothing brands. Explore thrift shops and second-hand markets across the UK to find affordable and eco-friendly clothing options. Engage with local sustainable fashion communities and attend events or clothing swaps to connect with others who share your values.