Today's modern lifestyles see most of us spending a lot of time in our kitchens, doing more than just cooking. In fact, the kitchen is quite often the very hub of our homes.
It's the place we eat breakfast, catch up with our partner or children and pursue our hobbies, such as baking and cooking.
You might even find yourself working there, especially if you like to multi-task. But when we spend a lot of time in one room, it can be all too easy to allow the clutter to build up.
And before we know it, if we don't keep on top of things, we can find ourselves feeling pretty stressed out in the very space we treasure.
Keeping a clutter-free kitchen and allowing more space in an area that gives us value and purpose can spark those positive vibes.
Preparing an environment that is inviting and cozy will naturally attract you and others to spend more time in the kitchen.
Are you ready to get started on creating your minimalist kitchen?
You're in the right place.
Read on for our tips on how to achieve the minimalist kitchen you've been dreaming about.
What Do You Need for a Minimalist Kitchen?

Firstly, you'll need to become very organized. In addition, you'll need to have plenty of storage solutions. Especially if you have a small kitchen with limited space.
By their very nature, kitchens are full of "stuff," which we all know is the enemy of any minimalist.
The best thing to do is look for smart storage solutions for kitchen stuff like cutlery, utensils, and crockery. I also happen to love this kitchen storage solution.
The idea is to keep the work surfaces as clear as possible, so only keep the absolute kitchen essentials out on the counters.
This will make them much easier to keep clean, too.
You'll need to find a home for everything that's not going to be kept on the counters. For example, if you don't use your toaster every day, then don't keep it out on the side.
Find a spot for it in one of the cupboards and just take it out as and when you need to.
You'll need to keep on top of things too.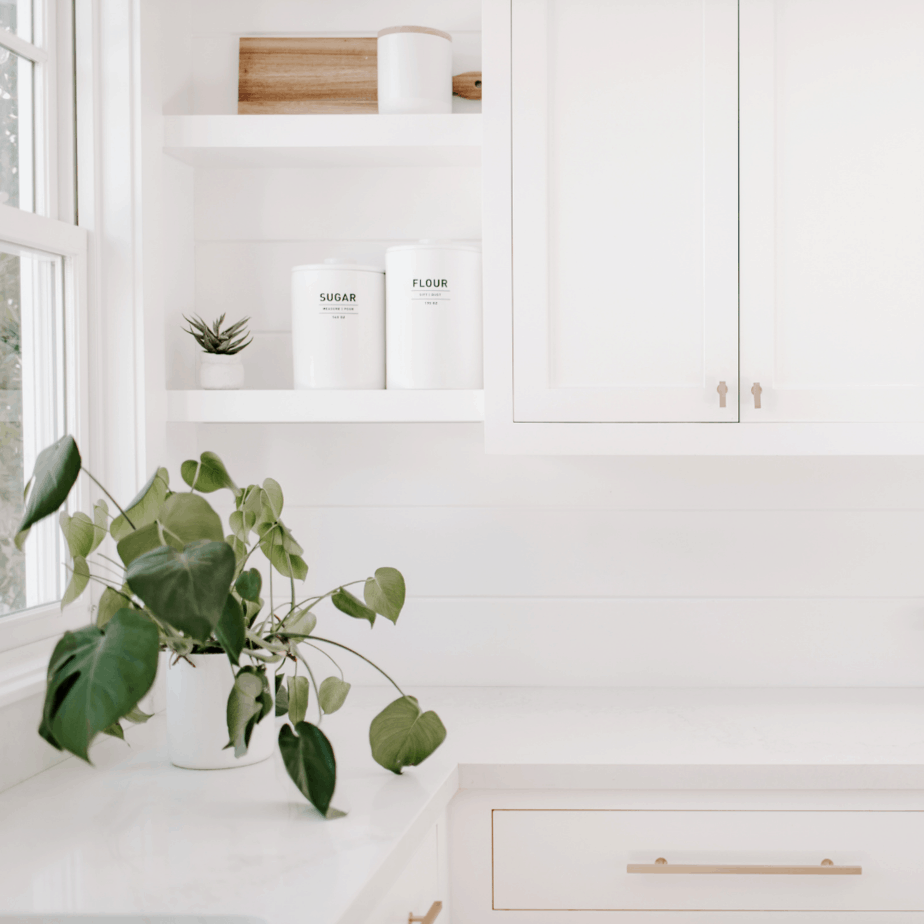 How many of us pick up a magazine and pop it down on the kitchen side, where it just gets left for days?
Are you guilty of leaving pots and pans in the sink for more than a few hours (or days?!)
Minimalist living requires a high level of commitment – but once you've got your clutter-free kitchen going and more space, it will be much easier to maintain.
Minimalist Kitchen Design
A minimalist kitchen will typically look sleek and tidy, with counters and visible spaces free of clutter.
The design can be simple, sophisticated, or a mix of both. Incorporate stainless-steel appliances with marble countertops for an elegant look or choose a monochromatic theme like all white appliances and cabinets for a bright, crisp look.
It can be modern or even have a rustic vibe. Whichever look resonates the most with you, keep in mind that the final design should be functional and uncluttered.
Ditch the cabinets and use open shelving to store your kitchen and pantry items; bonus points if your pantry items are organized into jars and other reusable containers. The open shelving concept can make your kitchen feel larger since shelves tend to take up less space than cabinets do.
If space permits, a kitchen island is a great way to add stylish functionality to your kitchen. Not only is it great for storing additional kitchen items in the cabinets and drawers that are incorporated, but it also functions as a multipurpose surface.
Adding some simple bar stools can turn your island into a central place for eating, preparing meals, and congregating with the family.
To add a pop of color and décor to your kitchen, consider keeping a plant or two near a kitchen window, or maybe a dramatic bouquet of flowers you can set in the middle of your island.
Keeping your kitchen counters free of clutter is essential for giving it that minimalist look; this doesn't mean you shouldn't keep anything at all on your counters or surfaces but, consider how the items that are left out fit in with the overall aesthetic of the kitchen.
Choose small appliances that have an appealing look or source artisan kitchenware that feels elevated, special, and fits in with your minimalist look.

What are the Essentials for a Minimalist Kitchen?
The answer to this question… it really depends on what's important to you.
Do you love to cook?
Are you an aspiring baker?
Or, are you more likely to order a takeaway or rely on ready meals?
Before you get started, think about these questions really carefully. You'll need to be honest with yourself before you start planning your minimalist kitchen.
If your work or family commitments mean you rarely have time to cook from scratch, there is no point in buying (or keeping) utensils and appliances – you just don't need them.
The first item on your to-do list should be clearing the worktops of clutter. Next, empty out the contents of all of your kitchen drawers and cupboards.
Have a look at everything you have been storing and decide whether you need it or not.
Our advice? Be brutally honest with yourself. When was the last time you used it? Have you ever used it?
If you've got a coffee maker gathering dust, this is the time to get rid of it!
Consider selling things you don't need via an auction website or donating to a local thrift store.
If you make any money from your unwanted items, you'll be able to spend them on some purposeful kitchen essentials or space-saving solutions- what could be better than that?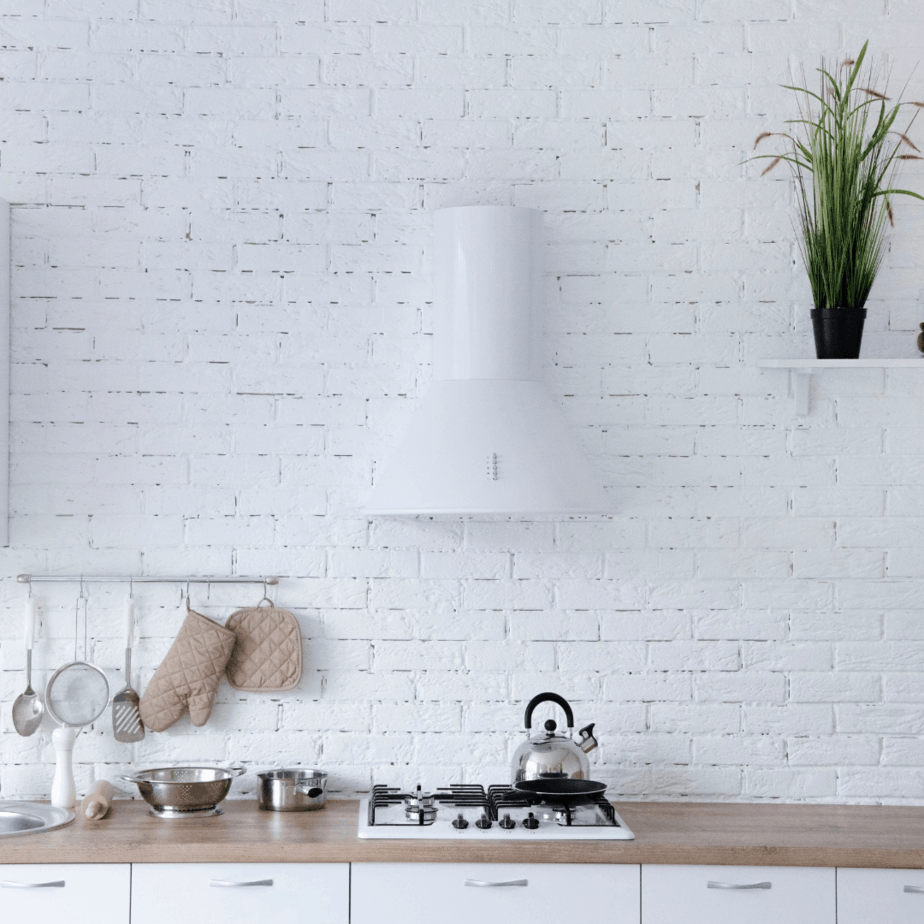 Minimalist Kitchen Essentials List
If you're still not sure which basic items you'll need to have in your minimalist kitchen, here's a kitchen essentials list to help guide you through the process:
Cutlery – knives, forks, and spoons

Tumblers or glasses

Cups and mugs – not too many. Again, 4-6 should be sufficient.

One pot and one saucepan. Buy good quality, non-stick versions – they'll be a great investment and will last a lot longer than some of the cheaper alternatives. I love this non-stick set that you can find here

One high-quality, sharp knife

Chopping board

Wooden spoon

Oven gloves

Spatula

A mixing bowl

Baking dish

Baking sheet

Sieve or strainer

Kitchen scissors

Tin opener

A set of food scales or measuring cups

Tupperware or other stacking storage boxes – for keeping leftovers.
You can definitely get by in the kitchen with just these items. Sure, if you love to bake or you're an aspiring Masterchef, you might end up accumulating some other things.
But if you want to maintain a truly minimalist kitchen, these are the items you should be sticking to keep it clutter-free.
If you find yourself contemplating the purchase of a kitchen utensil or appliance, ask yourself how often you're going to use it.
If it's less than weekly, could you borrow one for a friend or family member as and when you want to use it?
If you're planning on buying a few kitchen appliances, once again you should consider your own preferences.
If you love to eat warm and crispy toast for breakfast every morning, you're going to need a toaster.
If you only eat toast occasionally, you might be able to get by without if your oven has a grill setting.
If you're a coffee snob, you'll probably want to buy a coffee machine rather than relying on instant coffee. (This is me)
The same goes for smoothie-makers – if you love to enjoy a smoothie every morning, this is going to be an essential item that's worthy of a little space in your minimalist kitchen!
If you're a keen baker, you might want to treat yourself to a Kitchen Aid stand mixer.
But just be aware, all of these appliances will take up a lot of space – so if they're not going to be used regularly (at least weekly, but preferably more than that), then honestly, your minimalist kitchen would probably be better off without them.
So we've talked about the tools and appliances you'll need. The other big consideration? Storage?
Get yourself to IKEA and spend a morning (or day) trawling the kitchen aisles.
They have some amazing space-saving ideas for small kitchens (and the rest of your house for that matter).
Whether it's cupboard dividers, hooks to hang your pots and pans on, or a carousel to make the best use of a corner cupboard, they're sure to have something to help you with your minimalist kitchen.
Minimalist Kitchen Tips
The most important thing to creating a successful minimalist kitchen? Let's dig in.
1. Storage
Yup, we've said it a few times and we'll say it again! Storage.
Having somewhere to keep all of the kitchen items you need (and note the emphasis is on the word "need"!) means you will always have a neat, tidy, and minimalist kitchen after you've cleaned up.
Try to choose items that nest.
So if you decide you need more than one saucepan, choose ones that fit together so that they take up less cupboard space.
If you can't find nesting items, look out for things that fold.
There are plenty of collapsible items on the market, including dish drainers, buckets, bowls, and measuring cups.
Look at space-saving ideas. There are lots of different stacking shelf organizers available. Try your local homeware store or IKEA if you're looking for inspiration.
There's no point in stacking your bowls if there's a massive void above them that can't be used.
2. Get Organized
Next up, organization.
Consider everything you have in your kitchen. Put it into categories – things you use daily, weekly, monthly, or less.
Clearly, the "less" category will need to be looked at, as these are the things that you can probably get rid of.
But the things you have in your daily and weekly categories should be stored in a place that is easy to access.
Putting the saucepan you use to make tasty oatmeal in every morning at the back of the cupboard is not going to be a smart move.
Don't forget to invest in a cutlery organizer.
There's nothing worse than having to rifle through all the forks and knives just to find a spoon, especially if you're in a hurry.
Plus, you might even end up hurting yourself on a knife blade.
And you'll be able to see easily when you're running low – which means it's time to wash up or switch the dishwasher on.
3. Keep Track of What You Have
Finally, keep an eye on things. Maintaining your minimalist kitchen is all part of the fun!
Look at what you've got in the kitchen every few weeks or so and decide whether there is anything else you could get rid of or rearrange to maximize the available space.
What are your favorite cooking essentials? Do you have a plan for your new and improved minimalist kitchen? Or have you spotted a product that would be a great space-saving solution? We'd love to hear all about it!