Your closet is your sanctuary. A place where you can be alone with all of the clothes that make you feel good about yourself. It's more than just a space to store your clothing, it needs to be functional and stylish. Sometimes figuring out what colors go together seems impossible, but it doesn't have to be!
In this blog post we will teach you some great ways to approach color-coordinating your wardrobe so that every time you open the door, everything in there is something that makes you happy!
Why You Should Color Coordinate Your Closet
When your closet is color-coordinated, it makes getting dressed so much easier. Everything goes together and you don't have to waste time matching colors or worrying about what will look good together.
Plus, a well-put-together outfit always looks more pulled together and polished. And who doesn't want to feel their best every day?
How to Color Coordinate Your Closet
There are many ways to color coordinate your closet, but here is our favorite way. We like to pick one main base color and then add on some accent colors.
For example: let's say you choose pink as the base color for your wardrobe. You could use mint green or salmon pink as your accent colors. Or maybe you want to go with a monochromatic look and use different shades of blue as your accents. The possibilities are endless!
Once you have chosen your main color and accent colors, it's time to start filling up your closet! Here are some tips on how to do that:
– Start with the basics. Always make sure you have neutral pieces like black, brown, white, and grey that can be mixed into any outfit.
– Add in some basic colors that will go with anything you pick out to wear! These are your neutrals for when times get tough because they work with everything.
– Next, think about what kinds of colors you will wear the most. If you are a fashion blogger, your job is to have lots of colorful outfits so make sure those are well represented in your closet!
– Add accent colors that go with each other and work together for different looks.
– Make sure there's some color blocking going on because this look never goes out style!
– Finally, add in some vibrant colors that really pop. These are the ones you're going to have fun with so make sure they stand out!
Now your closet is color-coordinated and ready for anything! You will always feel confident about what you are wearing because everything goes together so well.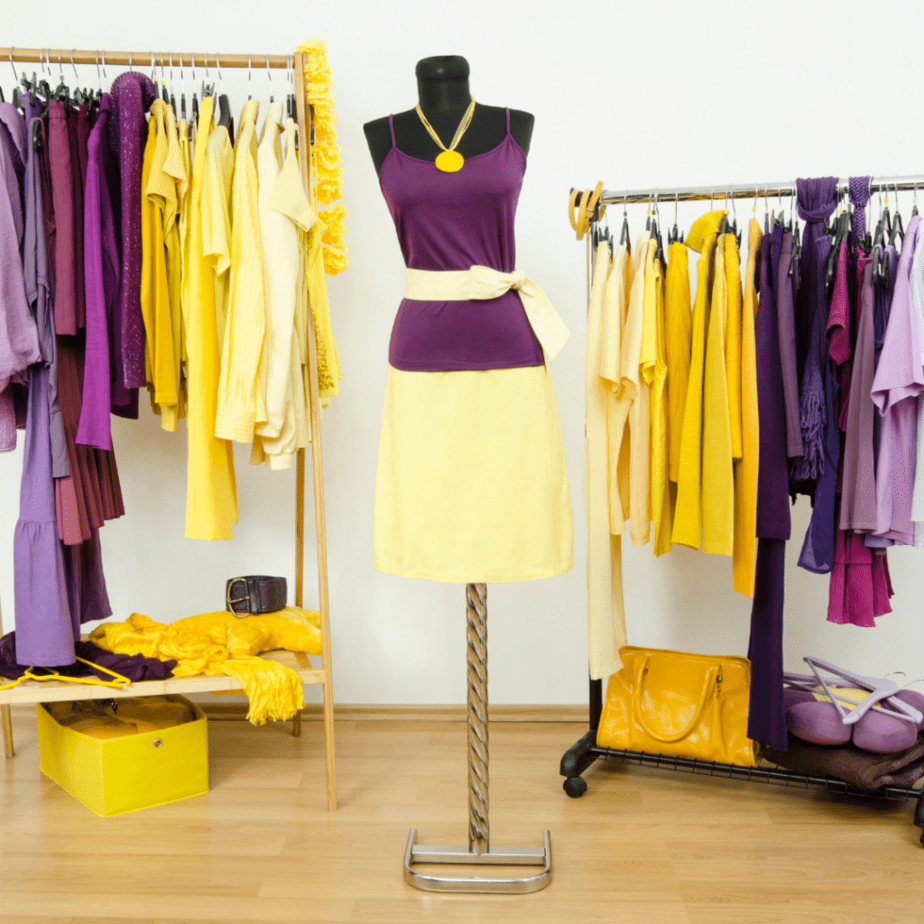 7 Brilliant Hacks for Color Coordinating Your Closet
#1. Start by organizing your clothes in the color wheel.
The first step to being able to find what you are looking for is making sure that everything has a place where it belongs. Start with hanging all of your blouses, pants, skirts, and dresses together on one side of the closet – this will be easy because they are already hung up!
Then group all of your tops, bottoms, and jackets together. This way there is no more digging through a pile of clothes to find the right color for what you are looking to wear!
#2. Use color blocking to your advantage.
If you are feeling a little more adventurous, try using color blocking in your closet! This technique is where different colors are blocked together to create an interesting visual. For example, wearing a navy blue blazer with white pants or a bright pink dress with a green cardigan. Not only will this look great, but it creates even more opportunities for color coordinating your wardrobe!
Pro Tip: Make sure to only use this technique when you know that the colors look great together and do not clash. We don't want anything in our closet we won't wear because of the way it looks with other items!
#3. Plan outfits ahead of time.
Outfit planning is the third step in creating a color-coordinated closet. If you are feeling confident, try matching all of your shoes to different clothing pieces! This could be done by placing similar colors together or even trying out wilder combinations like black and white with bright yellow heels for example. When it comes to knowing what to wear, planning ahead is always the way to go!
Pro Tip: If you are someone that has a hard time sticking to one outfit all day long, try planned outfits for different occasions. This could be something as simple as work clothes on Monday, gym clothes on Tuesday, and so on. That way you never have to worry about what to wear again!
#4. Add pops of color.
Adding pops of color is the last step in making sure that you have full control over your closet! This doesn't mean having a neon green shirt, it means adding one or two unique pieces to make every outfit more interesting. Maybe this would be something like wearing red heels with navy blue pants for example. Having some fun with your clothes will make getting dressed in the morning so much more enjoyable!
Pro Tip: If you are ever feeling stuck on what to wear, try adding a pop of color. It could be as simple as changing your shoes or putting on a colorful scarf!
#5. Use color theory to your advantage.
Color theory is a technique that can be used in any aspect of life, not just fashion! It is the study of how colors interact with each other and can be used to create certain moods or feelings. For example, if you are feeling down, wearing black and white together could make you feel more depressed. If you are feeling happy, wearing bright colors could make you feel even happier!
Using color theory can be helpful in planning outfits for different occasions or finding items that go together. Pro tip: if something doesn't seem to match when it's hanging next to other pieces of the same color, try moving them around your closet until they look great together.
#6. Create a color palette.
A great way to start using color theory in your closet is by creating a color palette! This can be done with anywhere from three to five colors that work well together. For example, if you choose blue, green, and purple as your colors, you could mix and match different shades of each to create endless outfits. Not only will this make getting dressed in the morning easier, but it will also help you to expand your wardrobe!
Pro Tip: If you are having a hard time picking colors that work well together, try using nature as inspiration. This could be anything from the colors of the sky or sea to different flowers and plants.
#7. Get rid of any colors you don't love.
The final step in color coordinating your closet is getting rid of any pieces that do not make sense together or are unflattering to your body type! This doesn't mean throwing out all the clothes you never wear, it means finding a new home for them instead.
Make sure they go to someone who will get good use out of them and can appreciate the color coordination just as much as you do!
Final Notes
A color-coordinated closet can give you a more polished and put-together look. It also makes getting dressed in the morning easier because all of your clothes will match!
Creating an organized, cohesive style is easy when we use these simple tips to help us on our journey. We hope this guide has been helpful for illuminating some new insights on how best to make it work for you and keep your wardrobe looking great.