There are more than 35 billion pounds of textiles sitting in U.S. landfills today. This is due, in part, to the constant rotation of low-cost, fast fashion that is common today. This trend is unsustainable. Despite our best intentions, about 85% of our clothes will end up in landfills.
The overconsumption of clothing has turned into a global crisis with devastating effects on the environment.
There is no standardized solution to handle this problem. Once these garments end up in the trash, they stay there much longer than you might expect.
While some natural fibers like cotton, silk, or hemp can start to break down within a few weeks. Other synthetic materials like nylon or polyester can take anywhere from 40 to 200 years to decay. Why not recycle old clothes into something new instead?
Did you know that clothing made of 100% natural fibres can be composted?
Make room in your compost bins for natural fibres like cotton, linen, hemp, and silk. Just make sure to check the labels for blends and remove any zippers, buttons, or snaps. Composting these natural strands is the best way to ensure they complete the cycle and return to the earth.
What to do with old clothes
Stop tossing out your old garments. Instead, give these threads a new lease on life. Rather than chucking those outdated jeans, upcycle them into something fresh and unique.
For any items that are synthetic or too sentimental for the worms, try one of these fantastic ideas to transform your old frock into something extraordinary.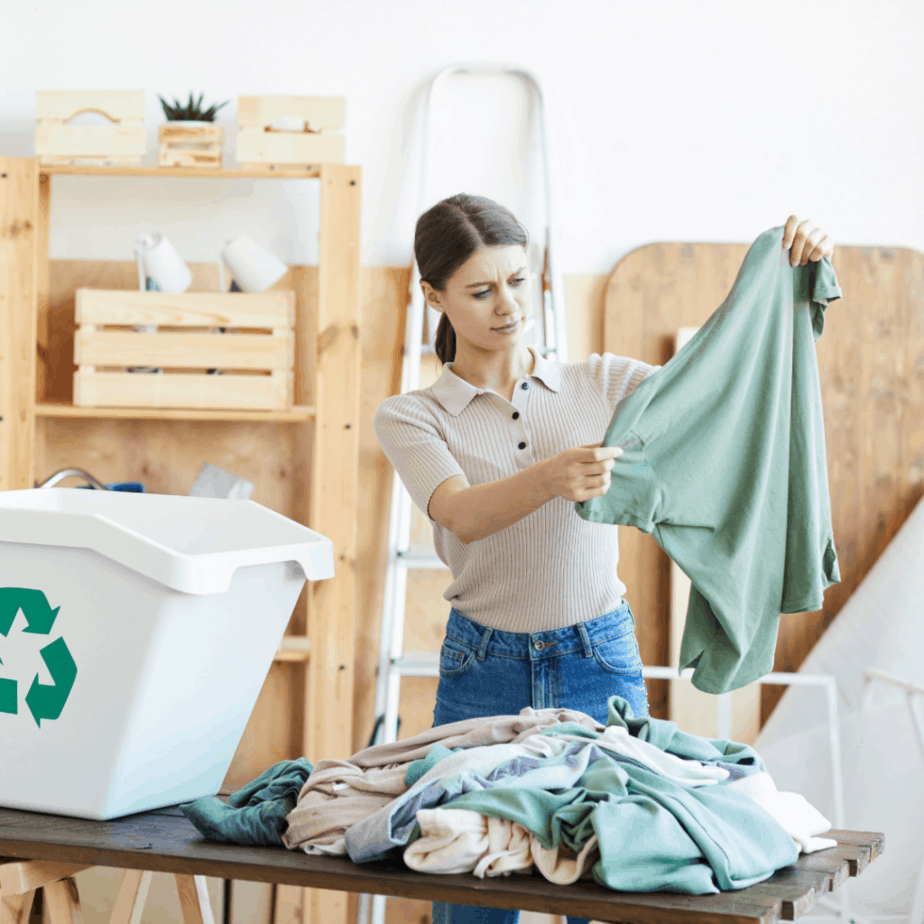 10 Simple Ways to Recycle Old Clothes into Something New
1. Upcycle your old jeans into new coasters
Denim coasters are a trendy DIY alternative to store-bought. Turn your favorite pair of jeans into your trusted coffee table savior. Plus, they are so easy to clean!
They will never have to touch a landfill by using this simple method to create a household staple. They are so fun and simple to make. Whether you weave them or fray them, there is a hack to suit your style.
You can find the full instructions here.
2. Get your bake on by converting a shirt into an apron
An oversized shirt can easily be transformed into a cute DIY apron. The transformation is almost unbelievable and so adorable. Create a full coverage smock style apron, or just for your lap. Your outfit will remain pristine regardless of your affinity for baking.
You can find instructions here.
3. Turn your textiles into a rag rug
Get all the way down with upcycling by turning any textiles into a unique rag rug. Create this shaggy mat by cutting the clothes into strips and weaving them into the rug canvas.
This DIY project is so easy, and sewing skills are not even required. Spruce up any room with this fantastic statement piece. My personal favourite is the rug made of denim.
Find the tips and tricks here.
4. Fashion your T-shirts into headbands
Tame your tresses with one of these adorable, knotted headbands crafted out of your favorite Tee. These elaborate-looking accessories are incredibly stylish and versatile.
These work best with cotton, so they are perfect for transforming old T-shirts and tanks. The best part, absolutely zero sewing skills requires.
Find the full instructions here.
5. Pack your pants for lunch
Make a cute paper-bag-style lunch tote from any pair of pants. You will have the cutest retro lunch bag around with this simple transformation.
Some basic sewing skills are required to craft this exclusive piece. But I promise it will be an afternoon well spent. Full instructions here.
6. Turn your Jeans into a duffle bag
Why settle for a tote when you have life in the bag! I love this idea of turning your old jeans into a duffle bag. I can only imagine how many new favourite things you can stuff into old ones.
This bold statement piece will be the only bag you ever need. Especially if you try this oversized version.
7. Build a memory quilt from T-shirts
Save up a collection of your favourite Tees, and turn them into a creative, cozy quilt. This works exceptionally well for sentimental children's clothes.
Memory quilts can be made in endless designs and styles, from graphic tees that you love to shirts decorated with significant symbols like cities or your alma mater. These would also make a fantastic gift.
Find the full instructions here.
8. Jeans into a Moroccan pouf
I love the idea of taking a piece of clothing and transforming it into something completely unexpected. This can extend its life indefinitely. This is the true meaning of recycling old clothes into something new!
Going from something wearable to a piece of art or even a piece of furniture is magical. This Moroccan pouf is a beautiful meld of the two—a gorgeous accent piece with a charming back story.
Find the instructions here.
9. Create a cowl and boot socks from an old sweater
Create a set of adorable fashion accessories out of a well-loved sweater. Stay warm with a cowl and matching boot socks re-designed from a comfy sweater. You never have to let your favourite sweater go. This look works exceptionally well with oversized knits.
Completely upgrade any outfit into a warm hug. Find the full instructions here.
10. Elevate your worn denim pieces into a romantic skirt or dress
Create a whimsical tulle skirt out of retired denim shorts. Mix up the colours to add some flair and breath new life into an old staple. Add layers and pleats to create your unique style.
If it is a fitted denim shirt you want to spice up, add tulle to create and gorgeous dress.
Find the inspiration here.
Even when we donate our clothing, much of it still ends up in landfills. The only way to truly extend the life of these textiles is to give them a new-found purpose.
Take the old and worn out and recycling them into something brand new. Re-claiming these dated outfits into fresh, useful items is the best way to do this.
There are so many creative choices to transform your pieces into innovative and practical creations. Saving them from the trash and re-establishing their position as truly cherished treasures.