Self-improvement is a never-ending process. There are always new things to learn and challenges to take on, but the reward of getting better is worth every bit of effort! That's why we've compiled this list of 12 self-improvement plans for you.
Pick one or two that sound like they'll help you the most today and see what a difference it makes in your life!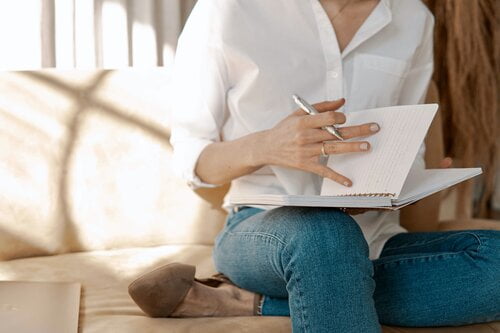 What are self-improvement plans?
Self-improvement plans are self-focused strategies used for self-development. They can take many forms, including goals you set for yourself or activities that may help you grow as a person.
A self-improvement plan is simply a set of self-directed activities that focus on your own self. These plans may be focused on self-development, like setting goals for yourself and working towards them or they could be personal projects you want to complete. Another form of self-improvement plan revolves around challenging habits in order to change them into positive habits that will benefit you.
The self-improvement plan should be designed for your needs and goals, but they can vary depending on the individual. They are most effective when done with a sense of commitment and dedication – if someone is only doing self-improvement as an obligation to other people then it may not have much success. For those who are self-directed and motivated, self-improvement plans can be a positive force in their life.
What should I do with self-improvements plans?
There are many ways that self-improvement plans can be used. You may want to set self-improvement goals for yourself, or you might use self-improvements plans as a venue to try new activities and think about what makes them work.
12 Self Improvement Plans You Should Make Today
1. Know your self-worth and write it down.
Many people don't realize how great they are, and self-improvement is about boosting self-esteem and confidence. When you're confident in yourself, it shines through to others as well.
Write down 10 things you love about yourself, and then write down 10 more the day after. Learn to see yourself as someone who is valuable.
2. Find a way to touch base with old friends/acquaintances
It's easy to focus on the connections and acquaintances we've most recently met or the people who are most involved in our day-to-day lives.
But sometimes the best relationships of our lives were established when we were younger, so revisit them every once in a while for a little reminder of your roots and the people who helped you get to where you are today.
3. Take up a new hobby or sport
Trying something new can be scary at first, but there's so much to gain! You may find a new passion that you can look forward to doing during your free time, or learn new, valuable skills.
Join a sports league if you enjoy the team spirit, or take up running on your own. Take up gardening, photography, or writing. The possibilities are endless!
4. Challenge yourself to take care of your body
Self-improvement starts from the inside out, so take good care of yourself and don't neglect your physical needs.
Be sure to eat a healthy diet, get a consistently good night's rest, and exercise regularly so that you're supercharged to take on each day, and each challenge as it comes.
5.Do something creative
They say that art is therapeutic because it takes us away from reality for a while, and self-improvement should be therapeutic too!
So find some time each day or week when you can create whatever your heart desires – paint, draw, knit, make pottery. Creating helps cultivate a healthy sense of self-worth.
6.Become a great listener by practicing intentional listening
A key part of being a great communicator is learning how to listen to others. At one time or another, we've all been guilty of dominating conversations with our own thoughts and opinions.
But self-improvement means listening to the thoughts and opinions of others so that we can understand and appropriately respond to their views and feelings.
7.Practice mindfulness and be mindful of your thoughts
The type of thoughts we engage in daily are the building blocks of our worldview and heavily dictate the outcome of our lives. Sometimes our minds can be unkind when it comes to self-talk, so being mindful and aware of your thoughts and the way you speak to yourself is important for self-improvement. An attitude change won't happen overnight, but every little step counts toward a better outlook on life!
8.Spend at least 20-30 minutes outdoors each day.
Spending time outdoors increases your oxygen levels allowing your body to function more optimally. Getting outside can also help you feel more connected with nature, your community, and your surroundings in general. This sense of connection helps cultivate a sense of belonging.
9.Make self-care a priority
Self-improvement also means engaging in self-care. This can include anything from getting a massage, cooking your favorite meal, or giving yourself downtime to read or listen to your favorite podcast without any distractions.
Think of the things that make you feel really good and incorporate some self-care into your every day.
10.Get involved with others by joining an organization or community
We are social creatures by nature, so self-improvement is also about nurturing relationships with others and our community.
Get involved in worthy causes, whether, through an organization, or a neighbor's cause. Selfless actions can make you feel fulfilled in knowing you are contributing toward the needs of others.
11.Do one thing each week that make you uncomfortable
Sometimes you have to try new things in order to improve.
This can be as simple as eating a new food or trying on a clothing style you've never worn before, but it's important not to limit yourself and let go of the fear that accompanies change.
12.Spend less money on things you don't need and keep track of your expenses
When you stop giving so much importance to material things, you find that you find more sustained happiness in your everyday experiences.
Avoid impulse purchases that end up cluttering your home, and before making a purchase consider if the cost is really worth the money, and long-term value.
Final thoughts
These are just a few examples of how you can make changes in your life to improve the way you live.
If there is one thing that can be said about life it's this; the only constant in life is change. And if you aren't constantly growing and changing, you're remaining stagnant and fixed in your ways.
Remember, today is the first day of the rest of your life! What self-improvement plan will you choose?