When it comes to travel, we often find ourselves struggling to pack just the right combination of clothing to help see us through our trip. Knowing exactly what to pack is a real challenge: packing too much can mean expensive baggage fees, lugging heavy suitcases around, and having excessive bags or suitcases with us on our trip.
Packing too little can mean your clothes get dirty quickly, you don't have the right clothing you need for an activity or meal, or if you damage an item of clothing there's no way to replace it or recover from it.
Luckily, there's a new method for planning the perfect travel wardrobe that helps you ensure you have all the essential items you need exactly when you need them, and it's called a minimalist travel wardrobe.
What is a Minimalist Travel Wardrobe?
A minimalist travel wardrobe is a comprehensive set of clothing that's versatile and varied without taking up too much space in your luggage.
It's a collection of staples and statement pieces that can be worn in any situation or environment and are of good enough quality to stand up to many years of travel or many different types of vacations.
Minimalist travel wardrobes are efficient and yet, still fashionable, making them great to have with you on a vacation where you don't have full access to your closet.
How to Create a Minimalist Travel Wardrobe
Creating a minimalist travel wardrobe is fairly simple. It starts by taking an honest look at your clothing choices and picking out the items you wear all the time.
Next, take a look at which of those items is versatile or multi-purpose. For example, a plain blouse can be worn with jeans for a casual look or tucked into a skirt for a more formal look, so by bringing that one item you get two different uses out of it.
You also want to put careful consideration into the shoes you're bringing. Shoes are often the bulkiest parts of our wardrobe, so try to pack shoes that can really be worn in any situation so that you're maximizing the number of uses you'll get out of each pair.
Minimalist Travel Wardrobe: the 10 Essential Items You Need
Disclaimer: Below may contain affiliate links, I only recommend products that I use and love at no cost to you. 
1. The Signature T-Shirt
One of the most timeless pieces of clothing, having a signature t-shirt or blouse in your minimalist travel wardrobe is absolutely essential.
T-shirts can be worn with any combination of clothing: shorts, pants, jeans, dress, sweater, swimsuit cover up, etc. They're simple to wear and keep clean and can be worn or styled in many different ways. 
Our Favorite Pick: Plain & Simple
2. Your Favorite Jeans
If you're a jean lover, having a pair of your favorite jeans in your packing repertoire is also a must. Jeans are stapled denim pieces that can be worn day or night, casual or formal.
You can style them in many different ways and wear them in many different climates, and they're universally flattering and a great option for minimalist wardrobes.
3. The Best Comfy and Cute Sweater
Having a pull-over sweater or sweatshirt on your trip is another must. These items are a little bulkier, so make sure you're only bringing one and that it's neutral or versatile enough to be worn with many different items.
A comfortable and cute sweater has many uses: keeping you warm, styling over jeans or dresses, tucking into outfits for extra layers, and more.
4. A Basic but Flattering Dress
You never know what formal activity you might wind up taking part in when you're on your trip. A basic or neutral-colored dress is also helpful because you can wear a t-shirt or sweater over it and turn it into a shirt/sweater combo as well, making it highly versatile and fashionable.
Our Top Pick: Two Thirds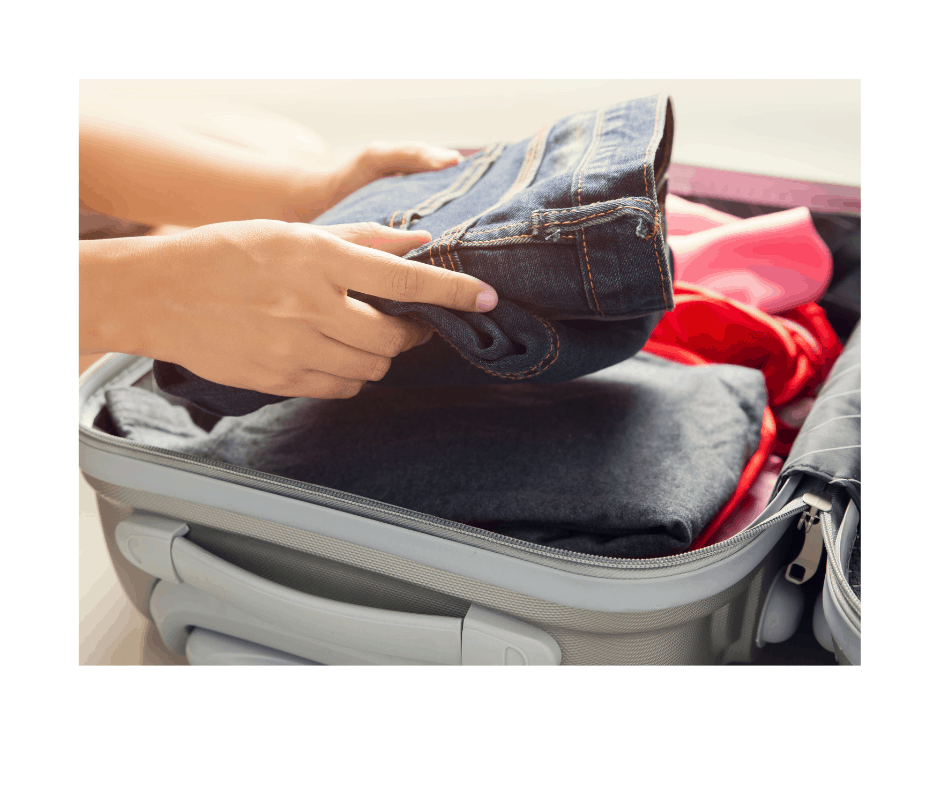 5. A Swimsuit
Even if you're not traveling to a tropical destination, having a reliable swimsuit in your minimalist travel wardrobe is key. You never know when you might need a swimsuit, whether it's discovering a hidden hot spring or dipping into the hotel sauna or hot tub where you're staying.
If you're in a pinch, swimsuits can also double up as undergarments, making them multi-purpose and valuable!
Our Top Pick: Bassal Store
6. The Right Underwear
Underwear is one of the hardest things to pack correctly. Packing the right amount of pairs of underwear is huge: no one wants to have to re-wear underwear day after day.
In a pinch, you can always wash your underwear in the sink of your hotel, but for your sake, it'd probably be easier to bring the right amount right away! As far as bras, bring one traditional one and one workout one, so you have options in the amount of coverage and support you need.
7. A Pair of Sneakers
Regardless of the climate you're traveling to, you're going to need a pair of simple sneakers on your trip with you. Make sure they're able to withstand hikes, travel, or fashionable wear so that your bulky shoe is well worth its weight!
Our Top Pick: Loci Wear
8. A Cardigan or Light Cover
A transitional cardigan is another great travel staple because it's both an accessory and a warmer layer that you can bring with you throughout your day.
Throw a cardigan on over your shirt to dress it up and keep yourself warm or tie it around your waist for an available layer should you get cold.
9. Athletic Pants
Having a pair of athletic pants, be it leggings or yoga pants, is important to remember. Not only are these comfortable pants great for travel days, but on longer hikes or physical activities, you might find yourself clinging to having these comfortable staples along with you.
10. SmartWool Socks
Socks are like underwear; you can never have enough. Socks are key to your travel because they cushion your feet and prevent blisters and other damage from forming, but it's also hard to rewear them day after day because of the amount of sweat that builds.
SmartWool socks are designed to be reworn and continually comfortable, so throwing a few pairs in will help you make them last longer.
Final Thoughts
Minimalist travel wardrobes are an essential part of your packing and planning for your next trip. With a minimalist wardrobe, you can cut down your packing bulk and weight in no time while still having a wide array of clothing and fashion options available to you.
Thanks to minimalist travel wardrobes, you can travel anywhere and do anything, all with a simple suitcase full of the most fashionable and laid-back essentials.