Skincare has gotten more and more complicated these days.
Every beauty brand or mogul seems to be pushing the latest product, a 5, 7, or 10 step morning and night routine that demands a variety of expensive treatments in hopes of achieving the perfect skin.
However, more isn't always better, especially when it comes to your skin.
A minimalist skincare routine is actually one of the healthiest things you can do for your skin.
With basic products that work effectively to treat every part of your skin's needs all at once, you can cut time, excess spending, and excess product out of your skincare and stick to focusing on the best minimalist skincare that actually works.
How to Create a Minimalist Skincare Routine
Creating a minimalist skincare routine means taking a look at the kinds of products you use on a regular basis. How many things are in your current skincare regimen?
A good minimalist skincare routine relies on three to four products maximum: a cleanser, a moisturizer, sunscreen, and a topical acne treatment if needed.
Nothing more than that is needed in order to truly achieve good skin.
Dermatologists everywhere actually recommend having a less complex skincare routine because introducing more products into your skin has the tendency to clog and damage your pores, creating blockages and many other long-term negative effects.
Cut out the excess and simplify down to basic, all-natural, high-quality skincare products for the best long-term results for your skin and budget.
10 Minimalist Skincare Tips For Your Routine
1. Look for Versatile
Many minimalist skincare products succeed because they provide a number of benefits in one bottle.
Look for a product that offers many different functions and benefits so you can use that to replace several other products in your arsenal.
We love the Gruum Brand for this because they offer a little something for everyone.
2. Don't Forget Sunscreen
Many people assume that being minimalist means you need to cut out all unnecessary products and often toss sunscreen on the list of don't need.
Sunscreen is essential to your overall skin health and happiness, so not using it can expose you to serious cancer. Make sunscreen a part of your regular skincare routine no matter what.
3. Think About the Timing
A good rule of thumb for minimalist skincare is that your routine should take no more than ten minutes.
Becoming a minimalist means cutting out unnecessary and extra, time-consuming steps.
Timing your minimalist skincare routine will help you identify those areas.
4. Combine Sunscreen and Moisturizer
If you're really looking to cut down on the products you're using on a regular basis, combining your sunscreen and moisturizer products should do the trick.
Look for a nice, thick moisturizer that will also have an SPF content of at least SPF40 to help keep your skin clean.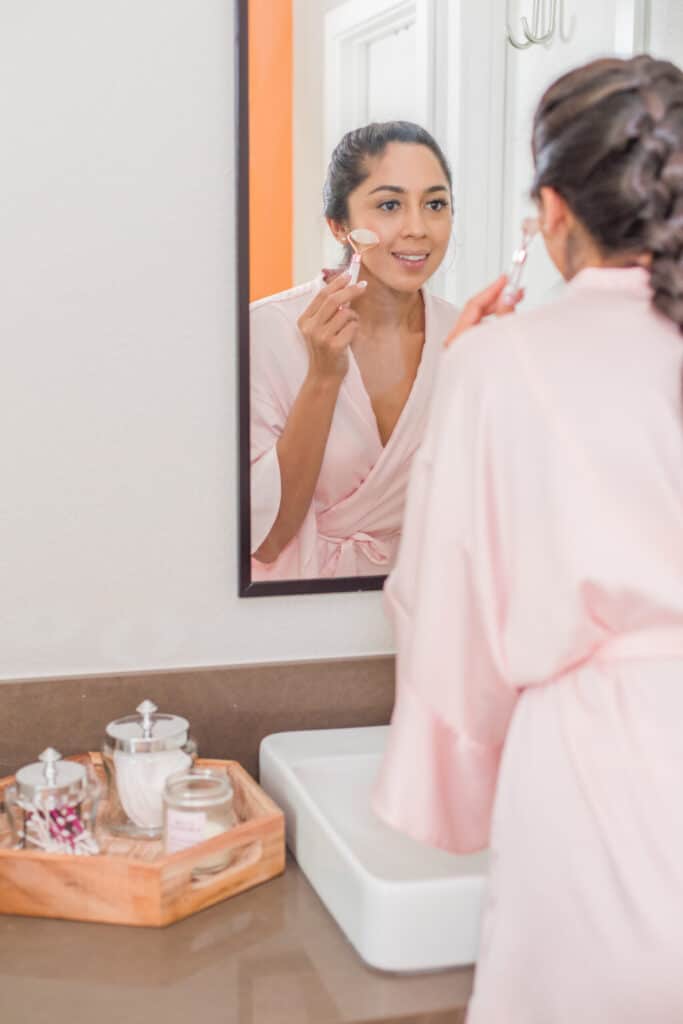 5. Plants Work Great Too
Plant oil is a great skincare substitute because it can be used literally anywhere on your body and is completely natural.
Argan oil or Vitamin E oils are especially useful because you can apply directly anywhere for maximum hydration and skin health benefits.
6. Consider Adding in Toners
Toners can be great products to seal in moisture or other benefits from your routine.
Sealing in those benefits is a great way to ensure they last for a long time without needing to constantly reapply or apply other products instead.
Bringing a toner in can help reduce the need for even more products.
7. Fight the Urge to Mask Up
While sheet masks and thick masks can be nice once in a while treats, they're really not necessary parts of your skin care routine.
In fact, they're often complications that just add additional time and products into an already hectic beauty routine.
Leave them behind and focus on the essentials.
8. Focus on Your Cleanser
The absolute most important part of your minimalist skincare routine is your cleanser.
Washing your face regularly with good quality products is the number one way to ensure that your skin is actually healthy and clean.
Splurge on a high quality cleanser and make that your staple product.
We recommend Verso Skincare line for your minimalist skincare routine!
9. Avoid Alcohol-Based Anything
Alcohol can be incredibly drying on the skin, and when you're already facing a pared down skincare routine the last thing you want is to have to add more.
Leave it behind and focus on what you do need.
10. Drink Lots of Water
Water is technically the silent part of every skincare routine. Water flushes out toxins, hydrates your skin, and enhances your natural glow.
The more water you drink, the better your skin will look.
Minimalist Skincare Products to Use
We Are Wild Korean Nourishing Balm
This is without a doubt one of the best products for a minimalist skincare routine.
This Korean brand is the perfect example of everything minimalist skincare should be: natural, healthy, and versatile.
This easy to apply stick doubles as a moisturizer and skin brightener that applies all over your face and body for best results.
With sunflower oil as the major ingredient, you're guaranteed a fresh and natural approach to your multipurpose skin balm.
Honest Beauty Deep Hydrating Face Cream
Moisturizers are probably the most important ingredient in your skincare routine. They handle overall skin health and decrease aging, dry skin, and other troublesome skin irritations.
Well-moisturized skin looks younger, fresher, and is less likely to break out or wrinkle.
Honest provides versatile, all-natural, deep hydration from natural ingredients that packs a powerful punch.
You can use this rain or shine in place of any other combination of hydrating products for the perfect full-skin hydration.
Bio-Oil Skincare Oil
As a full body skincare product, Bio-Oil is definitely the tp recommendation.
This high-quality oil is non-greasy and hydrating, and can treat any number of skin conditions from old acne scars to stretch marks, birthmarks, and more.
Bio-Oil is a full body treatment that has multiple vitamin compounds inside it, so you can use it in place of many other mists, moisturizers, or cleansers for full-body care in a minimalist package.
Final Thoughts
Finding the perfect minimalist skincare routine requires some patience and practice, but ultimately you'll be so grateful for the switch.
Cutting out the excess and focusing on the simple here and now is one of the best ways to ensure a happy and healthy minimalist skincare routine for years to come.