Want to add a little Hygge to your home?
The word 'hygge' (pronounced hue-guh) is derived from a 16th-century Norwegian word, hugga, which meant to comfort someone. This word eventually led to the modern English word, hug, which can give you a pretty good idea of the feeling that you are chasing if you are aiming to live a hygge lifestyle.
Hygge is officially defined as "a quality of cosiness and comfortable conviviality that engenders a feeling of contentment or well-being." The practical definition is a little harder to pin down. In this post, we're going to share some easy ways to incorporate the concept of hygge into your home.
What is a Hygge Home?
The concept of hygge is used to create a feeling of contentment and connection. It's about being present and being able to enjoy the moment even if you're not having a good day.
Hygge can be achieved by creating a warm, inviting atmosphere inside or outside your home, with a fire, tea lights, paints/ that provide a rustic feel, soft lighting from candles or lamps, fresh air from an open window, and calming smells from incense sticks.
In other words, it's basically about creating an environment where you feel the most comfortable and the safest. Where you can let your guard down. Where you have the fewest physical distractions and most importantly, minimal mental distractions. Where you can truly relax into being present in yourself without feeling like someone is constantly watching you or judging how you act or look.
You can add personal elements that evoke a cherished memory, a certain color scheme, or cozy blankets. You can also choose calming and peaceful activities to partake in within your home.
Read on to discover 15 ideas for incorporating a little hygge into your home.
15 Hygge Home Ideas for 2023
1. Choose neutral colors
A hygge home is a peaceful home, and you should pick a color palette that is tranquil and spa-like to you.
Everyone will have a different range of shades that evokes this feeling for them, but popular color schemes generally include some combination of light greys, cream, browns, and certain cool tones such as sage green or steel blue.
2. Eliminate Visual Clutter
A cluttered space can lead to a cluttered mind. Invest in some well-designed storage boxes to store loose papers or other miscellaneous items you may need to keep out of sight but easy to access.
3. Mix Up the Textures
Hygge is an overall feeling, so it's important to add elements that soothe all of your senses – not just sight. Adding a chunky knitted blanket, or a faux fur throw pillow can add dimension and interesting elements to your space.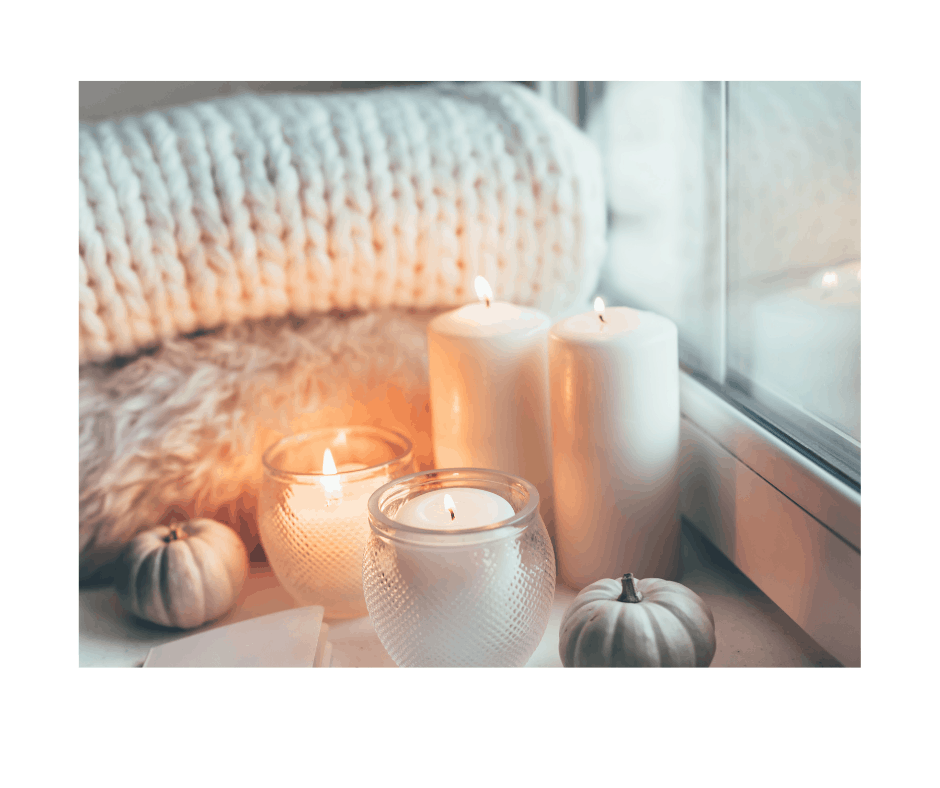 4. Candles
Indirect lighting is key to achieving the serene, cozy atmosphere that is vital for a hygge home. Candles are an easy way to achieve this – you can stock up at the dollar tree, or you can splurge on some designer options.
No matter your budget (or room size!), you'll be able to find a selection of candles that fits your space.
5. Bring Elements of Nature Inside
One common aspect of hygge design is the lean towards earthier tones and concepts. One way you can incorporate this easily is by bringing nature inside. If you own your home or have the ability to renovate your space, you can bring in natural wood floors or construct a stone fireplace.
If you're renting or can't commit to a construction project right now, you could bring in furniture made from natural wood such as a dining room table or a bookshelf.
6. Baking
One hobby that gained immense popularity in 2020 was baking, and you can continue trying out new recipes in the coming year. Whether you are perfecting your sourdough recipe or experimenting with something you saw on Great British Bake Off, you'll be able to spend time with yourself, focusing on a single task. Not only can this hobby be meditative, but in the end you have something delicious to enjoy!
7. Loungewear
An often overlooked element of a hygge home is what you are wearing!
You don't need to dress up or wear anything fancy (unless you want to!), but if you have some cozy sweatpants and a cute sweater, you'll be able to enjoy your space with the increased confidence that can come from wearing something you're excited to put on!
8. Tech-Free Meals
A simple way to add some calmness to your life is to eat a meal without looking at your phone. So many of us are guilty of eating lunch while scrolling on our phones or watching something on TV. And that can be fine in moderation! But once in a while, try eating while focusing entirely on your meal.
This can help you focus, and learn more about what your body needs and what makes you feel full. You can also use this time to reflect or plan the rest of your day.
9. Listen to a Record
These days, it's easy to put on a Spotify playlist in the background while you work and tune the music out a little bit. While there's nothing wrong with that, experiencing your music in a different way can bring a new appreciation for it. Imagine snuggling up on your couch under a cozy blanket, and enjoying a mug of hot coffee while listening to a vintage record you spent time selecting.
This back to basics way of listening to music provides a calming experience, and a turntable and a shelf of records can serve as a beautiful piece of decor.
10. Shop Local at Your Nearest Farmers Market
One easy way to eat healthier food that you're excited about is to shop local! If you have a farmers market near you, you can buy fresh and flavorful produce and incorporate that into your diet.
Hygge is about treating yourself better, and eating local helps you both inside and out.
11. Cozy outdoor space
If you have your own outdoor space, there are some easy things you can do to make it your own peaceful retreat.
Whether you have a small balcony, or a large garden, you can add plants, floor pillows, lanterns, string lights, hammocks, and whatever else you can think of to make the space cozy for you.
If you have your own backyard, you might even consider putting together a small fire pit.
12. A Comfy and Cozy Bed
The average person spends ⅓ of their life either asleep or trying to fall asleep. That means most of us spend about 33 years total in bed!
Because of this, investing in a high-quality mattress and soft and cozy bedding is never a bad idea. Indulge in Egyptian Cotton or Satin bed sheets, and top them off with a warm duvet and a chunky knit blanket, and treat yourself to a silk pillowcase (they're good for your hair!).
13. Plants
People were passionate about plants in 2020, and that trend will likely continue in the coming year. You can choose herbs, flowers, tropical plants, or succulents to feature in cute planters.
Snake plants are a great option for those of us without a green thumb. If you have a pet at home, be sure to check if the plant you're getting is safe for them. Scientific studies have shown that having indoor plants can help with mental health, productivity, and certain plants can even improve air quality!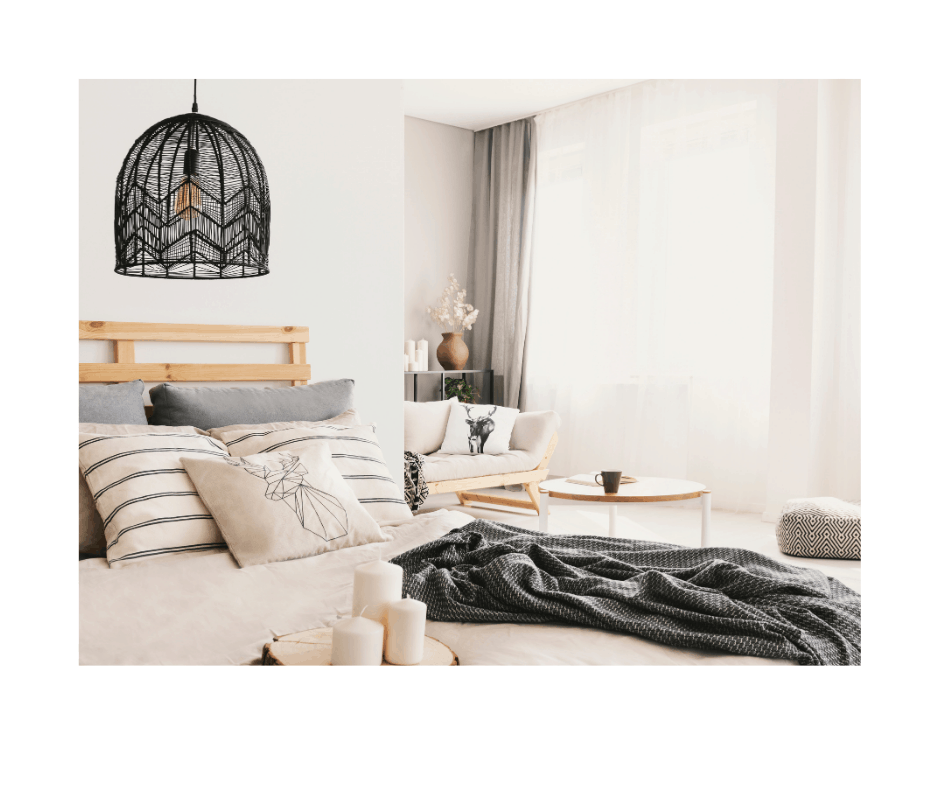 14. Vintage Elements
Adding vintage thrifted elements or heirlooms from your own family's collection is an easy way to not only add personality to your space, but it also can be a way to bring in those cherished antiques that make you smile when you see them.
One easy way to display any such items is to style a bookshelf with them.
15. Wall Art
Wall Art may seem like an obvious decorating choice, but there are many ways to do it. You can buy prints from local artists or off of Etsy, or you can try making your own. You can buy a canvas from your local craft store, paint in your preferred color scheme, and another element to add some texture such as gold leaf.
Smear the paint across the canvas and set the gold leaf throughout. Abstract and minimalist art is fun to make, and adds a personal element to your space.
The Benefits of Adding a Little Hygge Into Your Home
There are several benefits to incorporating hygge into your living space! The very definition of hygge suggests that a primary benefit of the lifestyle is an increased sense of comfort and overall positive feelings towards one's own environment.
Other benefits include:
Increased sense of satisfaction
Are you inspired to add a little hygge to your home? Let us know in the comments below!